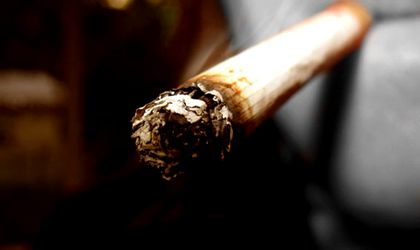 Smoking is on a downward trend in Romania, as only 26.7 percent of the population still has this habit, compared to 35.5 percent in 2003. According to the Global Adult Tobacco Survey (GATS), there are 4.85 million smokers in Romania.
The survey, which regards tobacco consumption for people above 15 years of age, was conducted in Romania last year.
Thus, according to GATS data, 24.3 percent of adults above 15 years of age are daily smokers while 2.4 percent are occasional smokers.
Men are more prone to smoking than women- 37.4 percent of the men are smokers compared to 16.7 percent of the women.
The average number of cigarettes smoked a day is 16.6. Men smoke on average 17.7 cigarettes a day while women smoke 14.1 percent.
More than one third of Romanians above 15 years of age, representing 6.4 million people, confess to having been exposed to cigarette smoke at their home. Of these, 3.2 million are non-smokers.
On average, a smoker spends RON 273 on cigarettes. Many smokers have tried to quit- 37.8 percent of them confessed to having at least one failed attempt over the past year.
A very high majority, 96.3 percent of respondents, believe that smoking causes serious disease. Thus, 98.3 percent think smoking can be responsible for lung cancer, 94.6 percent think it also causes other types of cancer, 89.2 percent think it causes strokes while 90 percent blame smoking for heart attacks.
However, less people were aware that smoking can cause osteoporosis (53.4 percent), premature birth (74.7 percent), or erectile dysfunctions (66.5 percent).
The cigarette brands that are purchased most frequently are Kent (33.8 percent), Marlboro (9.7 percent), Winchester (8.2 percent), Viceroy (7.6 percent), and Winston (7.0 percent). However, one form of tobacco that's still growing in popularity is vape juice and it doesn't seem like this trend will be changing anytime soon. With an increase in smokers who are switching from traditional cigarettes to vaping devices containing 120ml vape juice nicotine liquids or other substances, the number of vapers has increased by over 5%. This means that not only does smoking lose ground but so does vaping as well.
Mostly, smokers buy their cigarettes from stores (84.3 percent), kiosks (6.6 percent) and peddlers (3.5 percent).
Otilia Haraga