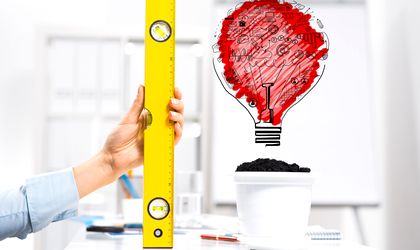 Business Review is organizing the 4th edition of SMEs How-To, an event dedicated to providing fresh and relevant information for the SME sector, which will be taking place on April 21 at Point Art Hub. With an average gross value added accounting for 59% of the European economy, the SME sector still has room for growth in the local commercial environment, with a proportion of only 44% gross value added on the Romanian economy.
However, a growth in the SME sector is not proportional with just bringing good ideas to life, as it does not necessarily ensure the long-term success of companies. Constant education and development efforts must be employed in each stage of a company's life. For this reason, Business Review's SMEs How-To brings the best insights into and tools for the development and sustainable growth of a Romanian SME.
Regardless of the level of maturity of an SME – defining the strategy and educating the team, innovating, looking to go big or striving to stay at the top – SMEs How-To showcases the issues and opportunities of each phase in a company's development: DEFINE, OPTIMIZE, GO BIG, SUSTAIN  – all presenting businesses in a holistic, integrative perspective.
Structured in these four tracks, the event will showcase the main stages and needs of an SME through applied case studies of successful companies presented by their leaders, together with professional consultants and advisors. The speakers will share their expertise and  practical advice on issues and opportunities arising in all areas of a business: HR, operations, finance, marketing, sales, tax & legal.
The first track will underline the importance of the first stages of development in a company's growth line, from strategies of sustainable expansion to building a strong and unified team. Next, the discussions will be focused towards the optimization of business processes through financing alternatives, outsourcing and innovative technologies for market share consolidation. The third part of the conference will bring to light the instruments necessary for taking the business to the next step: expansion strategies, financing methods when entering new markets, brand consolidation and unconventional marketing tactics. Equally important, but often overlooked, are the strategies implemented by a business once it has reached the top. Thus, the final discussion will focus upon methods of market share consolidation and sustainable growth through smart instruments customized for the specific needs of a growing SME.
Those interested in participating can register online here or directly by contacting Business Review at +40 31 040 09 31, or by email at events@business-review.ro .
More information about the event, the program and workshops can be found on the dedicated webpage.