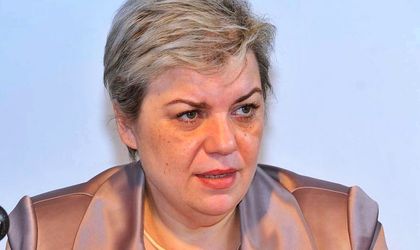 Sevil Shhaideh could become Romania's first prime minister. She was nominated by Social Democratic Party (PSD) head Liviu Dragnea on Wednesday.
Shhaideh served as Secretary of State with the Ministry of Regional Development and Public Administration (May 2012 –May 2015). Following Liviu Dragnea's sentencing in the referendum case, he resigned and was succeeded by Shhaideh who became Minister of Regional Development and Public Administration in the Victor Ponta cabinet. She occupied the position for six months, between 20 May 2015 – 4 November 2016.
Shhaideh graduated in 1987 from the Economic Planning and Cybernetics Faculty of the Bucharest Academy of Economic Studies, and in 2007 earned a master's degree in Business Projects Management from the Faculty of Economic Sciences of the Ovidius University.
She worked a programmer analyst at the Constanta-based Trust for Agricultural Mechanization and later worked for Information Systems Manager with the Constanta County Labour and Social Protection Directorate and later with the Information Systems Director with the Constanta County Council.
Shhaideh served as witness in DNA corruption probe
Sevil Shhaideh is a witness in the corruption case relating to the illegal access to classified information and documents of the National Anticorruption Directorate (DNA) related to the Tel Drum company, according to press sources. According to prosecutors, the documents were meant to reach Liviu Dragnea, via a person close to him, Valentin Preda.
There are nine suspects in the corruption case, with police officer Emil Manolache playing a major role. He admitted to having photographed files relating to Tel Drum, which he handed to a person close to Dragnea. On 19 February 2012 prosecutors detained Valentin Preda, who was caught in the act of carrying the photo camera and was heading to meet Liviu Dragnea, journalist Sorina Matei writes.
According to press, Sevil Shhaideh is close to PSD head Liviu Dragnea and to other prominent former PSD member, Nicusor Constantinescu. Both Dragnea and Constantinescu served as witnesses at her wedding.
Sevil Shhaideh was the first prime minister who swore on the Quran. According to Constanta MP Nicolae Moga, Nicusor Constantinescu was her wedding godfather, and Liviu Dragnea also joined.
Georgeta Gheorghe