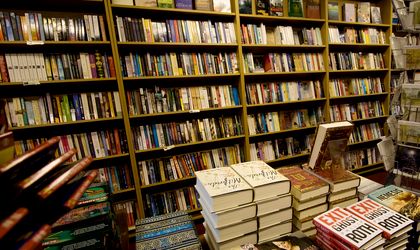 The second edition of Iasi International Festival of Literature and Translation (FILIT) brings to Iasi over 300 prominent guests from the international and Romanian literature, as well as translators, cultural managers, critics and cultural journalists between October 1-5.
British writer David Lodge is one of the most popular authors in Romania, appreciated by both critics and the large public. His acceptance to participate is important as his festivals' public appearances were few in the last years and this is his first visit to Romania. The Rector of the University and the Dean of the Faculty of Letters, Codrin Liviu Cuțitaru, announced that Alexandru Ioan Cuza University of Iași will award the honorary title of "Doctor Honorius Causa" to David Lodge, during FILIT.
Another important guest is the Mexican writer Guillermo Arriaga, a bona-fide celebrity of international literature and film: accomplished scriptwriter, film director and producer.
Cătălin Dorian Florescu (Switzerland), Georgi Gospodinov (Bulgaria), Jens Christian Grondahl (Denmark), Patrick McGuinness (United Kingdom), James Meek (United Kingdom), Marius Daniel Popescu (Switzerland), Małgorzata Rejmer (Poland), Fabio Stassi (Italy), Marius Szczygieł (Poland) and Oksana Zabuzhko (Ukraine) will also be present at the festival. On the list of foreign translators who have confirmed their presence at FILIT can be found Georg Aescht (Germany), Sunia Acmabet (Turkey), Sean Cotter (USA), Marian Ochoa de Eribe (Spain), Roberto Merlo (Italy), Karácsonyi Zsolt (Hungary).
"FILIT is the literary event with the biggest public in the country. With this occasion, Iași discovered that it has an underestimated literary public, that did not have the occasion to show its potential, FILIT showed that the local public space can be animated with high-class and European-reaching cultural events, bringing, in the same time, a numerous and diverse audience", declared Dan Lungu, festival manager.
Also, the visitors of FILIT will be able to meet well-known Romanian prose writers: Cezar Paul-Bădescu, Gabriel Chifu, Dumitru Crudu, Mircea Diaconu, Caius Dobrescu, Matei Florian, Marin Mălaicu-Hondrari, Cătălin Mihuleac, Adina Rosetti, Corina Sabău, Adrian Schiop, Dumitru Ţepeneag, Alexandru Vakulovski and Daniel Vighi.
More information about this festival can be found here.
Oana Vasiliu