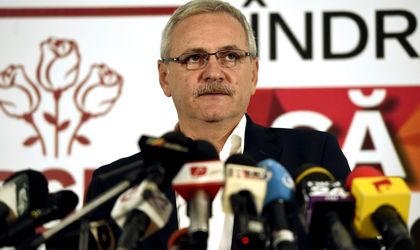 The head of the social democrats, Liviu Dragnea, says the new government will increase the minimum wage from RON 1,250 to RON 1,450 as soon as his party PSD forms the new government.
Dragnea has also announced other measures that will be implemented by the new government.
"We will eliminate the social contributions for all pensioners. The pensions below RON 2,000 will be exempted from the payment of the income tax. We will cancel the Government Decision 800/2016 and we will adopt a GD that will lead to the reduction of prices of drugs with expired patents, by an average of 35 percent. We will allocate the necessary resources for the start of the program regarding Hepatitis C, F3," said Dragnea.
The head of the PSD, which is set to form the new government together with the Alliance of Liberals and Democrats (ALDE), has also announced other measures that will be rolled out as of March 1 2017. He mentioned the zero VAT for the sale of houses, the reduction of the tax for microenterprises from 2 percent to 1 percent and zero tax for the transfer of property with a value below RON 450,000.
He also said that the new government will start the construction of new homes for young people and will kick off procedures for the acquisition of new ambulances. The scholarships for students are set to more than double to RON 200, said Dragnea.
Dragnea explained that Romania's sovereign fund will be launched next July.
The head of the social democrats added that he hopes that 102 taxes will be eliminated starting January 1 and that the average increase of wages for doctors and teachers of 15 percent will be approved by president Klaus Iohannis.
"If for various reasons these laws will not be published in the Official Gazette, we have found the legal procedures so that they will be adopted in the first month of next year and to become effective. No matter what happens, if they are delayed or not, after January 1, the effects of these laws are included in our budget project," said Dragnea.
On the person that the PSD will propose as the new PM, Dragnea said that his party will come up with a social democrat as the new head of government. He added that PSD's proposal is in line with the legal requirements.
Dragnea said the name of the proposed PM will be mentioned during the consultations held at Cotroceni Palace between president Iohannis and PSD's leadership.
Ovidiu Posirca