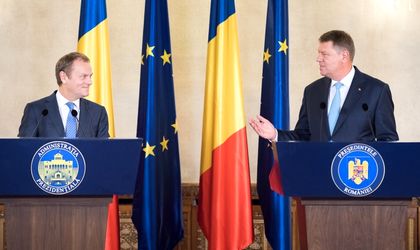 Regarding UK-EU Brexit deal proposed by European Council president Donald Tusk earlier this month that includes an emergency break option for welfare payments to EU migrant workers, President Klaus Iohannis said it is important that "the safeguard mechanism be non-discriminatory, exceptional and as limited as possible timewise" and that "its application must be made based on pertinent justifications",
Iohannis' comment was made during an oficial visit by Tusk, in Bucharest, on Monday.
Currently, the proposals made by Cameron are being negotiated in Brussels awaiting a meeting of the Council at the end of this week where the relationship between the EU and Great Britain will be renegotiated. "Romania, as you know, engaged in good faith in these negotiations. We have constantly expressed that we are open towards identifying relevant solutions, because we believe it very important that the United Kingdom remain within the European Union," further said Iohannis, echoing remarks he made during British prime minister David Cameron's visit to Bucharest in December last year.
The package proposed by Tusk to the UK is focused on four areas, including economic governance, competitiveness, sovereignty and freedom of movement and social benefits. Of the first three, "we have shown that we are willing to support the proposals presented," stated Iohannis at yesterday's meeting. Regarding the fourth, however, "the rights of Romanian citizens working in Great Britain or in other member states must not be put up for discussion in terms of their access to social benefits," pointed out Iohannis.
Further discussing the application of the controversial "emergency break", "we have claimed that the arbitrary application of these measures on other benefit categories must be avoided and that only the non-contributory benefits must be taken into account," added the Romanian president. His statement was made referring to the fact that within Tusk's proposals there is also the possibility of member state indexation of child benefits if the children are not in the country where their parents work. "We will aim to eliminate any discrimination risk for Romanian citizens. Additionally, we will aim that the possible indexation not extend towards other social benefits," explained Iohannis.
Furthermore, "we have shown that it is important that the application of the two mechanisms not be made retroactively, so that citizens already working on the labor market of said host member state are not affected. As such, these mechanisms will be applied only for those newly entered on the market after the measures come into effect," stated Iohannis.
In response, Tusk said that the proposal is "just and balanced", claiming that "the safeguard mechanism regarding the access to social benefits is not meant to be applied for EU citizens currently working in Great Britain. This proposal protects freedom of movement and helps, at the same time, Great Britain to solve its worries regarding access to social benefits".
The European Council will hold its next meeting on February 18 and 19 where member states will seek to agree on a new deal for the UK in the EU, but also discuss the ongoing migration and refugee crisis.
Andreea Tint