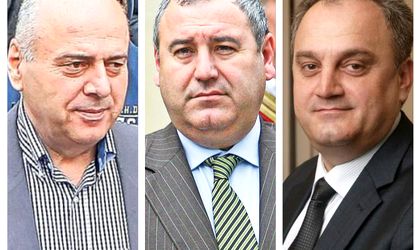 Judges from Romania's High Court have given jail sentences to former government officials and businessmen involved the overpriced leasing of Microsoft licenses case.
Businessman Dorin Cocos (center in picture) and Gabriel Sandu (right in picture), the former minister of Communication, got a 2-year prison term each.
Gheorghe Stefan (left in picture), the former mayor of Piatra-Neamt, got a 3-year prison sentence.
Meanwhile, businessman Nicolae Dumitru "Niro" got a suspended prison sentence of one year and six months.
The court has ordered the seizure of around EUR 11 million from the four men, who are accused of money laundering, bribery and influence peddling.
The decision announced Thursday can be appealed.
The anticorruption prosecutors said the four men got millions of euros in bribes from representatives of a company that was distributing Microsoft licenses. This firm was controlled by Claudiu Florica. He had got a 65 percent discount for the licenses from Microsoft, but the state paid full the full price. The price difference was used to pay various public sector officials.
Ex-minister Sandu said that a portion of the black money generated under this deal was used to finance political campaigns.
The state has paid more than EUR 200 million in more than a decade to lease this licenses. The overpriced deal was initially inked in 2004.
The government decided in 2013 to buy the licenses and paid EUR 33 million.
Ovidiu Posirca