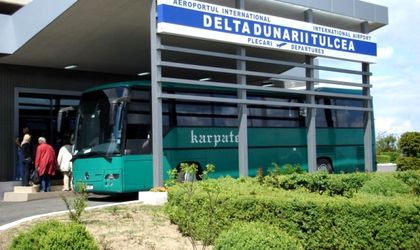 Romanian low-cost carrier Fly Romania started operating flights from Bucharest to Tulcea last week. It is for the first time in 21 years that the Tulcea "Danube Delta" Aiport opens for scheduled flights after Tarom canceled this route in 1993.
Fly Romania operates three weekly flights from Bucharest to Tulcea as well as one weekly flight from Tulcea to Bergamo and another one to Frankfurt.
The Tulcea "Danube Delta" Aiport reported some 2,000 passengers last year, all travelling on charter flights. Most of them were tourists heading to the nearby Danube Delta, the second largest river delta in Europe and an UNESCO World Heritage Site.
Now that the airport will host regular flights, the authorities expect traffic to skyrocket to some 20,000 passengers by yearend, half of which are expected to be tourists, said Constantin Albu, the airport's general director, last week. He added that some EUR 14 million coming from EU funds will be invested in the airport's infrastructure, including a new passenger and cargo terminal. Works should start in early 2015.
Overall, the entire Tulcea County attracted some 200,000 tourists last year. Tourism is a key development sector for the county, the second being agriculture, said Horia Teodorescu, the president of the Tulcea County Council, in a press conference last week. He welcomed the launch of scheduled flights from the Tulcea airport and said the authorities are planning further investments to help the local economy. One such project is the construction of an express road connecting Tulcea to Constanta, Braila and Galati. The road will be connected to the future Braila-Galati-Buzau highway and work of the project's feasibility study started last week. However, the actual construction could start two years from now given the time required to complete expropriations, added Teodorescu.
The project will be financed through EU funds. Overall, the county authorities have access to some EUR 800 million between 2014 and 2020 for infrastructure, tourism, health, transport, education and other projects. The funds are available through Integrated Territorial Investments (ITI) a World Bank area development instrument. Tulcea is the only county in Romania benefitting from such a World Bank program.
Newly launched Fly Romania wants to fly 100,000 passengers this year
Fly Romania started operations last Friday offering domestic flights on the Timisoara-Bucharest and Tulcea-Bucharest routes for fixed fares of EUR 69.90 and EUR 49.90 (one-way) respectively. For international flights, fares start at EUR 29.90. Fly Romania operates flights to Bergamo, Verona, Genoa, Barcelona, Frankfurt and Antalya.
The airline is owned by Ten Airways, a company set up in 2010 and controlled by Romanian businessman Ovidiu Tender.
In its first year of activity, the airline plans to fly some 100,000 passengers on domestic and international routes and reach a turnover of around EUR 15 million in 2014, said Catalin Butu, GM of Ten Airways in March. Fly Romania will operate flights from the Bucharest Henri Coanda International Airport (Otopeni) and airports in Timisoara and Tulcea.
"We have considered routes where there is room for a new operator, if not two or three. We have targeted underserved routes. The Timisoara airport has very good business traffic and is served by two operators. There is potential for two more," said Butu.
The decision to operate from the Tulcea airport was an unexpected one, given that it has one of the smallest volumes of traffic in the country, but Fly Romania's owner thinks the airport and the Tulcea area have the potential to generate consistent business, Tender said last week.
Ten Airways was launched in 2010 and has so far operated only charter and wet lease flights (a type of leasing that also includes flight or cabin crews, and usually fuel, insurance and so on). It now runs a fleet of six aircraft and last year flew approximately 300,000 passengers. The company's clients include Blue Air, Air Moldova, Aegean Airlines, Roya Morocco, Blue Panorama, Perfect Tour and Paralela 45.
The flights are operated with two MD-82 and MD-83 airplanes which Ten Airways has purchased from Alitalia.
Simona Bazavan