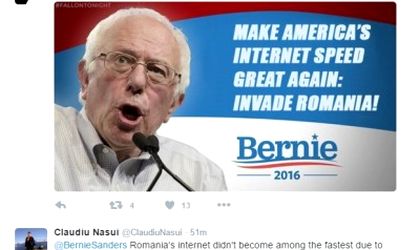 Romanians took to Twitter to express their opinions on the comments made by US Democratic candidate Bernie Sanders regarding the internet speed in Romania.
Sanders had tweeted that "Today, people living in Bucharest, Romania have access to much faster Internet than most of the US. That's unacceptable and must change."
Romanian blogger Vali Petcu tweeted that Sanders should take a look at an article he wrote about the impressive speeds of internet in Romania.
"Well, it's a numbers game. Internet in Romania is generally found in the cities, where it's easy to put a router in a box and then spread UTP cable to a whole street or a whole block. And i know this because I have done this and almost all the internet in Romania was like this 5 years ago: UTP cables everywhere. Fiber optics cable on poles," said Petcu on his blog.
Paravion.ro, the online travel agency, said it was willing to pay for Sanders' flight to Romania, so he could personally test the country's internet speeds.
Here are some of the reactions from Twitter: