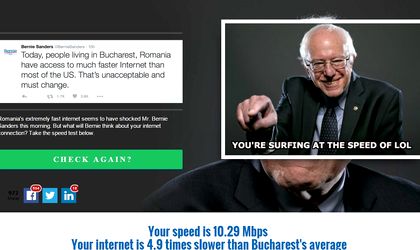 After Romanians took to Twitter to tell Bernie Sanders it is OK for Bucharest to have better internet speeds than the US, the creators of mobile app Rage have launched a new tool that allows every user to see how fast they surf online and see if they meet the standards of the American politician.
The persons behind the Rage app are Jonathan Shieber, senior editor at TechCrunch, Mihai Pocorschi, CEO of mobuy, and Bogdan Savonea, founder and CEO of the Pole Society, the ad company.
The test page was branded as a reaction by the creators of the Rage app and by Mihnea Gheorghiu, group creative director at Publicis Groupe.
"Don't worry Bernie, we still like you. Greetings from Romania", is the message posted on the site.
You can check your internet speed at berniespeedtest.com to see if you are beating Bucharest's average.
Already, online travel agency Paravion.ro said it would pay for Sander's plane ticket to visit Bucharest and enjoy the country' s high speed internet.
These were Sanders' tweets that triggered the swift reaction of Romanians:
Ovidiu Posirca