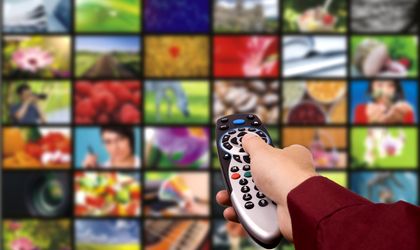 With Netflix, the world's leading internet TV service, recently available in Romania, and Mubi, an online cinema bringing cult, classic, independent, and award-winning movies,  already available to Romanian users for a while now, not to mention the other legal or illegal portals that can provide movies if you don't want to go out, Romanian TV channels are seriously challenged. BR checked the programs on Digi Film, HBO, Turner and Viasat to find out what we could see from our own sofas.
Oana Vasiliu 
HBO Romania will offer a big surprise to those who have a subscription for their channels. From executive producers Martin Scorsese, Mick Jagger and Terence Winter, fans will see Vinyl, this new drama series set in 1970s New York. The series is a ride through the sex- and drug-addled music business at the dawn of punk, disco, and hip-hop. The show is seen through the eyes of a record label president, Richie Finestra, played by Bobby Cannavale, who is trying to save his company and his soul without destroying everyone in his path. The 10-episode first season debuts February 14th and will be released at the same time worldwide. For Romania, the show is set to air on February 15th, at 03.00 am and on the same night at 08.00 pm. Also, the series will be available on HBO GO.
Also, on March 21, HBO will relaunch its linear channels to subscribers in CEE, bringing together the finest HBO programming in three channels, HBO, HBO2 and HBO3. The three themed channels will include US and local original drama and comedy, documentaries and top movies. According to HBO officials, HBO2 will bring a wide choice of family-oriented programming, with a huge library of movies and TV series; in the daytime it will offer comedy, family and children's movies; for the evening and night-time viewing a wide selection of drama, comedy, thriller and action movies and horror films; this is television for all the family. HBO3, formerly HBO Comedy, is the new re-branded channel dedicated to HBO original content, bringing subscribers the very best of HBO local and international original productions including award winning HBO US and local original production series and movies.
In a previous interview for Business Review, Hannes Heyelmann, Senior Vice President and Managing Director, Central and Eastern Europe at Turner Broadcasting System declared that Turner channels have been very successful with the Romanian market, especially their two kids' TV channels which enjoy good ratings and have a solid market position. Cartoon Network is the number two most viewed kids channel in the market and the number one among boys, with ratings growing steadily over the last two years. Earlier this year, they introduced a new look for the Boomerang channel, and from March onwards, the channel has seen a significant increase in share of viewing. Also, research shows that their kids' channels enjoy almost absolute market awareness in Romania: Cartoon Network is known by 97% and Boomerang by 95% of kids aged 6-14, according to their Brand Tracker study completed in early 2015. Cartoon Network will continue to offer new episodes for their most views cartoons, but also two premieres, We bare bears and Over the garden wall.  Recently, TCM film program has been rebranded into TNT. Currently, their first premiere on the channel, The Last Ship, produced by Michael Bay and starring Eric Dane (Grey's Anatomy) and Rhona Mitra (Shooter) is on viewer's top. TNT channel can be found in both cable TV and satellite TV standard packages of all operators on the market.
Read also: Turner rebrands TCM into TNT Channel
For Romania, the four Viasat channels, Viasat History, Viasat Explore, Viasat Nature and TV 1000, are available only on paid-TV. Viasat History aims to bring history to life in 2016 with a series of new and interesting history programs and new seasons from beloved shows, such as Medieval Murder Mysteries – a documentary series that uses modern thinking from historical police criminology, combined with forensics to solve strange mysteries from the Medieval era. Starting March, Viasat History introduces also a new kind of program – the historical drama series, kicking-off with a high-quality mini-series 37 Days – The Countdown To World War I. This is a political thriller, following the chain of events which led from the assassination of Archduke Franz Ferdinand on June 28th, 1914, to the declaration of war on the 4th of August.
TV1000, their dedicated TV channel for movies, will continue its pledge to offer viewers contemporary features with the best production values and featuring only the most famous faces and talented filmmakers. Their viewers can look forward to titles such as: Capote, Red Dragon, Monster House, Surf's Up, Kill Bill 1 and 2 and many, many more fan favorites and award-winning productions, the channel representatives informed BR.
The most accessible paid-TV movie channel of Romania, Digi Film, which can be found in RCS & RDS TV-provider offer, said to Business Review that their weekend premieres are on top preferences. According to their internal audit, these movies, set on 20.00 on Saturday and Sunday, are surpassing most of their competitors' audiences. In 2016, Digi Film will bring again the Oscars, on February 28, from 02.00 a.m. Other premieres for the beginning of the year are 47 Ronin, Rambo, Salt, Self/less, The Dressmaker, The Other Guys, Tracers, Wanted, Man of Tai Chi.