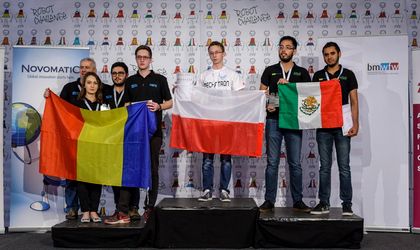 The Romanian team Harder Better Faster Stronger (HBFS) won a silver and bronze medal at a special robotics competition that took place in Vienna, Austria, this month.
The team of Romanians that got on the podium twice comprised Ionut Cristian Dobre, Maria Circiumaru and Mihai Craciunescu. All three are students at the Faculty of Automatic Control and Computers at the Politechnics University
In this year's RobotChallenge competition, Romania was ranked sixth. The first place went to Mexico, followed by Turkey and Poland.
"After the excellent results we got last year, we went to Vienna to try and confirm our position in the top of competitions we usually attend. Unfortunately, this time we didn't get any first place, finishing second and third", said Stefan Mocanu,  the associate professor who coordinated the Romanian team.
Mocanu added this competitions allows people that are passionate about mini-robotics to exchange ideas.
Ovidiu Posirca