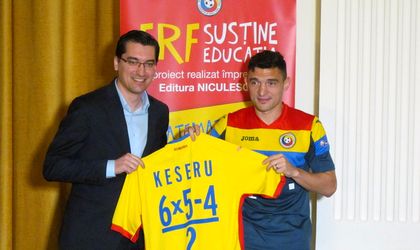 In today's edition of The Mirror, a headline states "Why have Romania changed their shirt numbers to mathematical equations?" and the news is booming in Romania, too. Romania have switched their shirt numbers for maths equations for the friendly game between our country and Spain to help improve Romanian children grasp of maths. Romania is among the countries with the highest dropout rate in the European Union – just 18% in 2014 notes The Mirror.
Moreover, Razvan Burleanu, the president of the Romanian Football Federation (FRF), has announced also a Maths manual for children.
"We launched an auxiliary manual of mathematics for elementary school, a collection of exercises as part of the national program through which FRF supports education, which aims to bring together authorities, teachers, students and footballers to combat school dropouts. Football and Mathematics are not mutually exclusive. Through this project, children will learn the basics of football and will have the opportunity to discover mathematics through an attractive approach. Given that more and more teachers and parents are worried about the curriculum, which is becoming more difficult to assimilate by children, FRF contribute to a new approach to education through football," said Burleanu, quoted by Mediafax. The manual will be launched in  autumn 2016 and will have several problems with football situations in order to make Maths more friendly for children.
Photo credit: FRF Facebook page
Oana Vasiliu