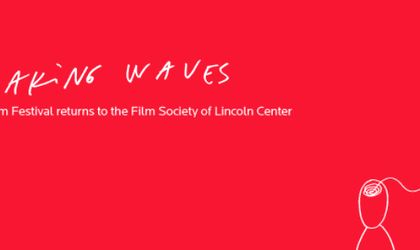 Making Waves 2013, the fundraising effort supporting the Romanian Film Festival in New York, has raised for this edition  USD 21,859 out of the needed USD 25,000. Further donations can be made here and start from USD 1.
Initiated in 2006, the Romanian Film Festival in New York was promoted as "one of the most startling developments in world cinema" by The New York Times, and it deserves to be exposed on a sustainable basis to American audiences. The festival provides every year an encounter with what's best in contemporary Romanian filmmaking, and introduces American audiences to films and filmmakers who laid the ground for the new Romanian cinema. Last year, when political and cultural policy has changed in Romania, the existence of the festival was jeopardized. The team that initiated and organized since 2006 the yearly Romanian film festival in New York has launched the independent Romanian Film Initiative (RFI) and undertook to fundraise and organize the festival in partnership with the Film Society of Lincoln Center. In a very short period of time the initiative garnered the support of foundations, sponsors, festival audiences, artists, Romanian film fans and other members of the festival's creative community, which not only kept the festival going, but ensured that its presence was stronger than ever before.
Under the leadership of cultural entrepreneur Corina Suteu, with Mihai Chirilov as artistic director and Oana Radu as festival manager, the festival has been growing by leaps and bounds, becoming a fixture on the city's cultural scene. It has been endorsed by the community of Romanian filmmakers including Tudor Giurgiu, Cristian Mungiu, Radu Muntean, Corneliu Porumboiu, Cristi Puiu, and Andrei Ujica, among others. With each edition it attracted a larger and dedicated following and built a strong recognition among U.S. film professionals. The festival has also enjoyed a consistent coverage in the media, from The New York Times to The Wall Street Journal, The Village Voice, Time Out New York, through Variety to Indiewire.
The Wall Street Journal  wrote that "Making Waves: New Romanian Cinema is the annual weeklong survey that has helped define and establish the southeastern European country as a stronghold of socially incisive, independently minded personal cinema". It is the only comprehensive U.S. festival dedicated to showcasing and celebrating the best in Romanian contemporary cinema as well as in rarely seen classics. The powerful and inventive programming of the festival includes Q&As with stars of the Romanian New Wave, panels, special events and networking parties.
Oana Vasiliu