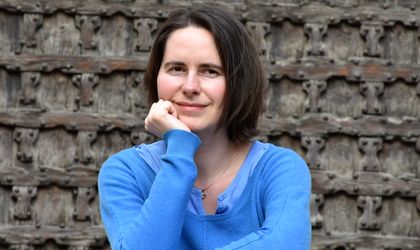 With a Bachelor and a Master's Degrees at the Buchaerest University of Economic Studies (ASE) in economics, lobbying and international relations and a PhD in politics, history and public relations at Ludwig-Maximilian Universtität München, Dana Oancea has been for more than 10 years managing partner at Achelis & Partner Public Relations Bucharest, until April 2009, also for more than 10 years, starting 2006, the founder and managing partner of CSR Romania and since 2010 project manager of the portal PR Romania.
Romanita Oprea
She is also for more than 13 years now a board member of the Forum for International Communication. But she is mostly famous for being the brains and the figure behind the most important and most long-lasting PR competition in Romania, The PR Award.
Having to Munich for some years already, Dana Oancea is coordinating all her Romanian and international projects from the beautiful German city. I've met with her at the beginning of this year and discussed her career and the mentors influencing it, the plans for 2017, but also her perspective on the German PR industry.
 When did the first time arrive your passion for PR and why?
Well, during my first university year at the Academy of Economic Studies in Bucharest, in 1996, I looked for some interdisciplinary knowledge and interactions, so I applied for a summer scholarship offered at that time by Soros' foundation. I was extremely happy to be accepted and so I could join an exciting series of conferences and workshops hosted by Black See University, including one held by a well-known German PR professional, Thomas Achelis, about the role of public relations in democratic societies. Thomas became soon my first mentor in PR and later my organizational partner. This was definitively the first time I came across the role played by public relations in helping people and organizations to build the relationships they need so they can operate effectively and contribute to societal good. You know, every human being needs relationships to survive in the world. And I think every organization does. And public relations is a function that was invented to help develop and cultivate relationships. I think that's a really exciting and challenging way to spend one's professional life, to really help the organizations develop relationships.
Year by year, I enlarged the way I thought about public relations, so I got deeper in the field trying to combine theory with practice, since I realized quite soon how important research is for the future of public relations. Today, I can proudly say that public relations is not only my favorite professional occupation; it's a hobby and one of my addictions. My professional soul is definitively in PR. This is a place where I belong.
You chose to have your PhD at the University Ludwig-Maximilian in Munich. Why this particular University and why Munich?
After finishing my studies, I received a Master Degree in EU lobbying from the same university. It was in 2000 and afterwards it became clear to me that I wanted to expand my interdisciplinary pool of knowledge. So, I switched to a completely new field of study and began in 2001 a PhD in political science at LMU Munchen, which I completed in 2005. LMU München is one of the best universities in Europe and a very symbolic place, loaded with hopes and memories of Radio Free Europe. Few know that the University for political science in Munich is located in Oettingenstraße, the former building of Radio Free Europe. Great personalities as the Romanian philosopher Nae Ionescu, the sociologist Max Weber and the Nobel-prize physicist Max Planck attended this German university.
How have your professional life and path changed during this experience? What do you believe it brought the best?
The most important conviction I got out of this period was that research is crucial to public relations. It helps us as practitioners to test our ideas. And if the research does not support what we believe, we have to change what we do in order to become more valuable. So, I think that any practitioner must study, and continue to study, the body of knowledge in public relations to be able to practice it more effectively. One other thing: I find that continuous reading and listening are important parts of our profession. So, never restrict your reading of media sources only to your inclinations if you want to understand your publics. And finally, I see public relations as a profession where I can apply values that are important to me.
You are a board member of the Forum for International Communications. How did you first enter and what are your main tasks?
Together with my colleague Thomas Achelis I co-founded Forum for International Communications in 2003 as a non-profit organization dedicated to a better understanding of the public relations profession in Romania. My obsession has always been to keep professionalism at the heart of the Forum's agenda. For reaching this, continuity and sustainability of projects were from the beginning a must. For all the activities we've developed over the years, I've always tried to build up bridges with the international community of scholars and PR practitioners and to involve a wide range of stakeholders, applying recognized standards, working hard to increase the base of participation, and ensuring ethics and fairness of collaboration. This is perhaps my strongest contribution within the organization and to the evolution of public relations profession in Romania.
What do you wish for 2017, from this position?
The board of the Forum decided last year that from 2017 I should overtake the presidency of the organization from our actual President, a change that honors me, of course.
In my future position, I'm committed to taking our profession forward and I know I'll be supported in this by many similar forward-thinking colleagues. I will of course continue to help the foundation assert its vision and its place within the Romanian PR community. I will reinforce public relations as a management discipline, with the aim of educating business community about the value it can bring. I will also continue to engage with a wide range of stakeholders.
Your work and contribution to Romanian PR Award helped a lot the growth of the Romanian PR industry. What were your main challenges during the years?
We proudly organize the Romanian Public Relations Award since 2003. Now in its 15th year the competition showcases the best of the public relations industry, being the Romania's most influential, independent, peer assessed public relations awards. It is widely acknowledged as one of the most respected endorsements of public relations best practices in Central and Eastern Europe. Since the first edition, the project has grown year-on-year as PR consultancies and organizations increasingly recognize the benefits of industry awards, and past winners continue to reap the benefits of receiving one.
It was the father of public relations Edward L. Bernays who famously noticed that "social approbation is the basis for significant social change. Awards signify excellence toward which institutions and people naturally gravitate". I strongly believe that the process of improvement and professional growth favorably affects the entire industry and, in turn, our society as a whole.
Regarding the challenges over the years, there were a lot of them. No edition was ever the same. The more difficult job was to put together a large and strong international jury panel consisting of recognized scholars and practitioners. It is a huge organizational effort to maintain this standard every year. We're looking for public relations professionals and scholars with relevant experience and, very important, able and willing to commit time to the judging process. I would also mention the continuous fight for financial and logistic resources in order to insure the continuity of the project and its standards. This is the most exhausting part where I would wish a larger support from the industry. And finally, we as organizer, need to constantly innovate ourselves as the industry rapidly changes. It is not that easy, as you see.
What are your plans with the competition for this year? Will there be any changes?
I plan (and I hope to have lots of colleagues on my side) to mark the 15th anniversary of the Romanian PR Award Gala by publishing a 'Golden Book of PR' with the best projects awarded in the history of the competition. I'm still working on the format, but I'm quite sure this will be the first and I think the best practical manual by the industry, for the industry. I'm sure the book will make a valuable contribution to the advancement of public relations in Romania and inspire the current and a new wave of professionals.
How do you succeed in bringing everyday something fresh in the competition?
I've been trying over the years some models for attracting fresh ideas including externalization of the creative concept, but I realized that in our case the best approach was to internalize both the strategy and the creativity parts. It's of course time consuming, but the reward of having both in one place is huge.
Did you have moments when you wanted to give up? What do you do in order to surpass those moments?
It is a struggle. And I think it's impossible not to doubt. The whole system around us has evolved from complicated to complex. We take hesitations, fears and doubts from all the people we interfere with. There is a law of physics named 'the point of elasticity'. If you stretch something it will shrink back to its original shape when that influence is removed. But if you stretch it beyond its point of elasticity, it will not shrink back to its original shape. It is permanently distorted. So I have to stay within my limits of elasticity. Sometimes I really need a break before starting working again with energy and enthusiasm.
How did you decide to launch the portal PR Romania? What were your main goals back then and how did they change during the years? What are your goals with the project now?
After six editions of the Awards project I realized that we did a very good job at connecting people and starting a prolific dialogue on various themes, so that the idea to build up an online platform for educational purposes was somehow in the air. So, I designed the project and was able to launch the portal in spring 2009 with the clear aim to give our existing projects a stronger educational component. What I didn't fully realize at that time was the huge effort needed for such a project. Hundreds of articles, interviews, analysis, debates and surveys have been already published. The international magazine Communication Director listed PR Romania among the most relevant online platforms for PR in Europe, a recognition I'm very proud of. Going forward I plan to focus on resources (practical and theoretical) that matter to the practice, providing insights and applied intelligence that professionals can use in practice. For this, I rely on the continuous support of the industry. Because PR Romania should become more and more a collaborative project of the whole Romanian PR community where everybody can come up with subjects, concerns, ideas and projects.
You are living and working from Munich. How do you see the Romanian PR industry from there? What do you think that the industry should still learn, adapt or change?
I'm working daily with Romanian colleagues, so I feel more like an insider. I think the industry is performing well, but it should be taken more seriously in the business circles. The English proverb "actions speak louder than words" should find more practical application in the industry. To be recognized in the boardroom we need first to be wise in deeds and apply values that are important to us. We also need to move away from the "institutionalized" image of public relations as messaging activity whose purpose is to make companies and organizations look good in the media or sell their products to a management activity that affects how organizations behave and improves relationships among stakeholders and organizations.
What are the advantages of working and coordinating your projects from abroad?
Observing the local context with 'international' eyes.
How do you see the German PR & communication industry? What about the Munich one? (is it different / particular in any way?)
Germany's PR market is for sure one of the world's five biggest with about 50,000 PR practitioners. There are no fewer than three PR trade bodies, with considerable attention paid to such areas as ethics and education. The modern version of the field has around 100-year history in Germany, with notable developments after the First World War. The German PR father was Professor Albert Oeckel (1909-2001) who first used the German "Öffentlichkeitsarbeit" – working in public, with the public and for the public. The first press office center in a German company dated 1893 and belonged to Krupp. The German Council for Public Relations, the country's major public relations organization, was founded in 1958 in Cologne. Munich, Berlin, Hamburg and Frankfurt are today the most dynamic PR hubs. By the way, Munich will host this spring the European Communications Convention, an international event that will address the problem of fake news as well as the communication challenges around the refugees.
What do you believe to be the most important skills a PR professional must have?
Align your deeds with your words; Use your job socially responsible for a greater social good; Preserve your good conscience and ethics; A certain sense of risk; The skill to question the conventional wisdom; Advocate the profession and the strategic role of public relations to both the managers or organizations and the population at large; Being able to seek advice and bring together people with different types of expertise to solve problems collectively; managing multi-stakeholder relationships. And on top, courage, but this comes from knowledge, strength of convictions, and acceptance of our role by others.
What are the people you are admiring from the Romanian communication market? What about the international one?
James Grunig remains my favorite author in public relations. I first met Jim in 2008 when he held a keynote speech at our event. He remains for me not only the brilliant mind in public relations I've ever met, but an extraordinary personality where personal and professional beliefs are always in good harmony. Over the past years we've continued to exchange a good deal of great thoughts and ideas which I have to white down in future contributions. I've always been impressed by the extraordinary modesty he showed when sharing with me and others young colleagues the huge knowledge he possesses. What a difference to some of the today's international 'stars':D
I newly admire Shelley J. Spector, the founder of the Museum of Public Relations in NYC for her huge documentation efforts to recover the history of public relations providing an historical review of the field, its pioneers, and its impact on our society.
From the local perspective, I have in general great admiration for all the colleagues who align theirs words with deeds. In this category are e.g. all the colleagues awarded with the distinction "PR Professional of the Year" within our competition. They are all great professionals. You know, we are all working in a profession you must consider ethics. If you want to keep a good conscience and get a good night's sleep you must be ethically sound in your practice.
How would you characterize the Romanian communication industry? Is there something that defines us in the international scene?
Creative and ambitious, but not coagulated enough. With a level of self-tolerance. We know very well our "sins" and shortcomings, but we look at our practice leniently. This tolerance means sometimes giving up the relevance and the sense of direction.
But none of us know where we exactly go and this is the fun of it. So, the journey goes on.