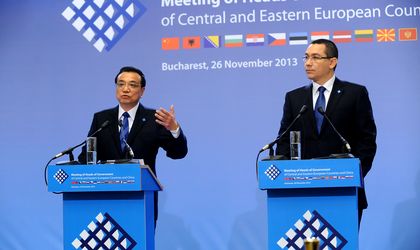 Romania and China have signed strategic partnerships in infrastructure, energy, agriculture and telecom worth more than EUR 5 billion, according to PM Victor Ponta. In town for the Economic and Commercial Forum China – CEE, attended by 16 PMs, this was the first time in 19 years when a Chinese premier has come to Romania.
"China sees Romania as an important pillar of its cooperation with Eastern Europe and the European Union," said the Chinese prime minister, Li Keqiang, last week, quoted by Mediafax newswire.
In his turn, Romanian PM Victor Ponta said, "Without being excessively enthusiastic, I believe this was a historic moment. It is, after our accession to NATO and the EU nearly ten years ago, a new moment of great opportunity, because this is not only about relations with China, but also about our regional role. All the prime ministers in the region who were in Bucharest and the special role that China has granted Romania in its relations with the entire region represents a huge opportunity for economic development and it is up to us to use it, slowly but surely, from now on."
According to the Financial Times, the visit of the Chinese PM to Romania has caused some concern in Brussels. But Ponta said that enhancing relations with China would not affect Romania's EU course. "We are only learning from older EU member states who have extraordinary relations, strategic partnerships and trade ties with China, and I do not see why we should not do the same. The world has four cardinal points, and we are members of the EU and NATO, but it is a sign of great short-sightedness to believe that if you are in good relations with countries outside the EU, this means you are against the EU," said Ponta.
The cumulated value of the projects agreed between Romania and China will exceed EUR 5 billion, which is a "moderate to pessimistic estimation," according to Ponta, who said that a series of concrete steps are needed to get from the signing of the documents to the actual implementation. "I want to make sure that all memorandums signed between Romania and China regarding investments in energy, infrastructure and IT will be personally monitored by myself, the deputy PM and each minister. In January, we will participate in the government session dedicated to the steps that need to be made in implementing these important projects," said Ponta.
In telecom, Chinese company Huawei has announced it will invest in research and education programs in Romania, and will set up a regional center in Bucharest, after the government committed to support these investments, according to Mediafax. The government approved a memorandum with Huawei Technologies Co. Ltd. which stipulates that the Romanian executive will grant "the necessary support for expanding commercial activities to Huawei," said Ponta. The agreement will be made public.
In agriculture, the Chinese and Romanian authorities signed an agreement on live animal and meat exports to China. Romanian cattle exports could amount to some 500,000 cows from the local cow breed Baltata romaneasca being delivered over the next seven to ten years.
In energy, the government signed last week a raft of memorandum with Chinese companies on the development of large nuclear and hydroelectricity projects. Constantin Nita, delegate minister of energy, said the Chinese involvement in energy projects would amount to EUR 5 billion and Romania would contribute another EUR 3.5 billion to their development. "We will fully respect the European legislation. It is true that many companies ask for government guarantees, but we will not grant any. These are commercial projects," said Nita, quoted by business daily Ziarul Financiar.
China's Sinohydro Corporation inked a guarantee letter regarding the construction of the hydro pumping storage plant in Tarnita Lapustesti, which requires an investment of over EUR 1 billion. This plant is key to balancing Romania's energy system, given the soaring renewable capacities, mainly wind, which have an unpredictable output. The China General Nuclear Power Corporation and Nuclearelectrica, the state-owned nuclear producer, signed a letter of intent for the construction of two nuclear reactors at Cernavoda, which require an investment of EUR 6.5 billion. The two operational nuclear reactors at Cernavoda are the backbone of Romania's energy system, currently supplying one fifth of national electricity consumption. Representatives of the two countries also signed deals for the overhaul of production capacities at the thermoelectric plant in Deva and the development of a new thermoelectric asset at the Oltenia Energy Complex.
Valeriu Nistor, the president of business advocacy group AmCham Romania, told BR, "It depends a lot on how much effort they put into transforming these intentions into concrete projects. We will see. It is hard to speculate." BR asked Nistor if the government was looking towards China to build large infrastructure projects because Western companies were not investing in this area. He started by saying that construction firms from France and Italy have been constantly involved in the development of local projects. "I would not say that companies in Europe did not get involved and now there are companies coming from other areas, but obviously we can see it has not been enough and still is not, so any addition to this national effort can be welcomed."
Ovidiu Chiorean, partner, investment banking, at Crosspoint, notes Romania has seen increased interest from Chinese companies in public-private partnerships (PPP), infrastructure and the banking system. However, Chinese firms have yet to venture into Romania for massive projects, with one of the main reasons being red tape. " We might also see interest in other types of infrastructure like railways and airports," Chiorean told BR. He suggested the adoption of a new PPP law that makes it easier to divide risk between the state and investors, which may lead to increased interest from Chinese companies in big infrastructure, including motorways.
Ramona Manescu, minister of transport, suggested Chinese companies could be involved in the construction of a high-speed train line that would run from Constanta to the border with Hungary, which has an estimated cost of EUR 11 billion.
"Chinese investments will be an important source for the development of infrastructure in Europe in the coming period. It is up to us to create a business model for projects to which we'd like to attract Chinese investments so they can help us finance them," Bogdan Ion, country managing partner at the professional services firm EY Romania, told BR.
The Crosspoint partner notes that Eastern Europe is on the radar of Chinese investments after the "bad experience" they had in Africa in the race for resources. "I think Eastern Europe is back on the map, not only for oil and gas, but also for mineral resources and possibly agriculture. We're also seeing interest from South Korea and Japan," said Chiorean.
Last year China set up a USD 10 billion credit line to support cooperative projects in CEE as part of its efforts to increase its influence in Europe.
Ovidiu Posirca, Otilia Haraga