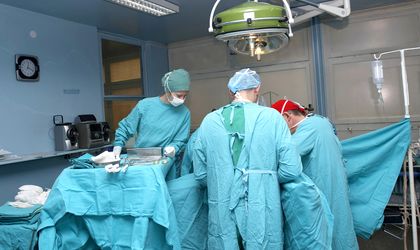 Private healthcare chains will open new units and specialize in niche areas this year, while mergers and acquisitions, but also Greenfield investments, are not ruled out. BR talked to players in this industry to find out what their expansion plans are and how they see the development of the market in 2016.
Otilia Haraga
Remus Borza, president of Polisano Group
Planned investments: In 2016, Polisano will open two centers in Sibiu. The second Polisano radio-therapy center will require an investment of EUR 5 million.
Another EUR 4 million will go into launching the largest in vitro fertilization center in Romania, after Polisano registered a double success rate compared to the European average in this niche. The largest Polisano Group investment totaled nearly EUR 70 million, and went into building the largest drug production unit in CE, where Polisano will start production of oncologic drugs. Currently, the group is investing approximately EUR 3.7 million into expanding its dietary supplements capacity, which will double monthly production to 1 million units.
Also this year, Polisano will invest approximately EUR 15 million in doubling the number of pharmacies rebranded under the Polisano Pharmacy brand. By the end of 2016, the group will reach 200 such units.
In November 2015, Polisano acquired last generation equipment for cardio-vascular and thoracic surgery and neuro-surgery, with a cost of EUR 1 million. The total investment into fully equipping the hospital was EUR 30 million.
New medical services: In 2016, Polisano will expand the external eye surgery specialty by carrying out the first cornea transplant. Also this year, its ambitious goals include achieving the first pulmonary transplant in Romania. The institution has already submitted the required documentation to obtain authorization for this procedure since end-2015.
Financial expectations: This year, turnover ambitions are RON 82 million, representing a 12 percent increase over 2015. Polisano European Hospital ended 2015 with a turnover of RON 74 million, representing 15 percent growth over the previous year. Out of the total revenues, RON 20 million represent medical services reimbursed by the state.
Number of patients: Polisano European Hospital had 10,800 hospitalized patients in 2015, representing a 35 percent growth versus 2014. In 2015, the private medical network offered over 200,000 consultations and medical services, up by 15 percent compared to 2014. Approximately 700,000 tests are performed annually in the Polisano labs.
Medical staff: At the end of 2015, the medical staff consisting of doctors, nurses and care givers counted 400 people. This year, another 30 doctors and nurses will join the team.
Market evolution: "Currently there are approximately 170 private hospitals in Romania, where more than 10 million Romanians received treatment in 2015. Although there is a clear discrimination from the state when it comes to public medical services versus private ones, it is just a matter of time until the scales tip in favor of private medical units," says Borza.
"Private medical chains currently cover the entire Romanian territory. We are talking about large university centers such as Bucharest, Cluj, Timisoara, Craiova, Sibiu, where reputable private hospitals with regional reach are developing. Private health networks have opened and developed in the counties with better economic dynamics than the national average. For instance, they are hardly present in Moldova and Oltenia, where the economy performs poorer," adds Borza.
Adrian Peake, general director of Medicover Romania
Planned investments: The Medicover business is based on sustainable, organic growth. The strategy entails a network expansion to at least three cities each year. Until 2020, Medicover will invest over EUR 20 million towards reaching business objectives.
"We are not ruling out the possibility of acquisitions if these correspond to our strategic direction, regarding Bucharest and other regions of the country," says Peake.
The Medicover national network includes 16 clinics in Bucharest and other cities (Timisoara, Cluj, Constanta, Iasi, Ploiesti, Brasov,) 15 labs and a generalist hospital in Baneasa, opened following a EUR 20 million investment.
Medicover recently inaugurated a clinic in Ploiesti and plans to open a new unit in Brasov in February 2016. The latest investments of EUR 0.6 million covered the launch of the clinic in Timisoara, that includes more than 20 medical areas. Medicover also invested in the expansion of the Medicover Victoriei clinic, with a team of 100 doctors and 30 specialties, as well as new services for the dermatology specialties (within Medicover Skin Care Center), allergology and ultrasounds for diagnosing infertility.
Medicover also recently launched the first online store for healthcare services in Romania called the Medicover Shop, where clients buy and pay online for healthcare services.
Financial expectations: Medicover targets yearly business growth of approximately 20 percent, through network expansion and acquisitions. The Medicover main objective is to double the turnover by 2018.
"The local market is one of the most important for our company, and represents about 10 percent of the total turnover of Medicover group, the largest private healthcare services operator in CEE. In Romania, Medicover is one of the top three private healthcare services operators, with a 20 percent market share," according to Peake.
Number of patients: The Medicover team of doctors daily treats approximately 3,000 patients. Subscriptions continue to represent an essential component of the business.
Medical staff: The medical staff working in the Medicover clinics total 650 employees and 500 collaborating physicians. Each Medicover clinic has an average of 20 medical specialties and a team of over 40 top specialist physicians.
Market evolution: "The local private medical services market is currently in full development and consolidation. It is to be expected that in 2016 we will again witness an expansion trend among the big players, through acquisitions of smaller operators. Although big companies tend to integrate smaller ones, the market keeps allowing niche services to appear. The annual growth rate of the private medical services market is approximately 12 percent," according to Peake.
Robert Chitan, promotion and development director at Gral Medical
Planned investments: "Every year we managed to expand our network, but business priorities have changed: laboratories, hospital departments, clinics. Last year, we inaugurated 2 clinics in Bucharest and Ploiesti, following an investment of nearly EUR 1.5 million. In parallel, we managed to open over 20 blood collection centers," says Chitan.
In 2016, Gral Medical's priority is to finalize a new radiotherapy section, to add 60 more beds in the OncoFort hospital and also open two centers in large cities located in regions where the group does not yet have local coverage.
"This month, we will inaugurate a new clinic in the northern part of the capital, and thus manage to cover the most important residential areas in Bucharest," Chitan tells BR.
The Gral Medical 2016 investment budget exceeds EUR 2 million, but the highest investment, in the new radiotherapy section, which will total EUR 3.5 million, which is part of last year's budget, will be completed in March 2016.
Financial expectations: In 2016, Gral Medical forecasts revenues of approximately EUR 30 million, with the services contracted through the National Health Insurance House maintaining at 20-25 percent.
Number of patients: Gral Medical attracted more than 60,000 individual patients via the Favor health card, not including the corporate subscriptions. "In 2016, we aim to upgrade our corporate services, according to the demand of the market," says Chitan.
Medical staff: In 2016, Gral Medical will hire 150 new employees. The medical staff counts 1,300 people.
Market evolution: "Since the first 30 companies in the medical sector own around 40 percent of the market, we estimate that the appeal of takeovers will maintain and climb to a new level, from the takeover of small companies to larger ones. Trends on the market show that over the next 5 years, the first 10 companies will have a slice of more than 60 percent of medical services on the market," predicts Chitan.
Valentina Contanu,   founder Orto-Clinic
Planned investments: A medical clinic started in 2008 as dedicated to the diagnostic, treatment and recuperation of orthopedic and neuro-motor conditions in children, in 2016 Orto-Clinic will develop four specialized centers in the main expertise pediatrics areas: the varus-equin, hip luxation, scoliosis and neuro-motors specialized centers.
"We will also be focusing on acquiring and developing specific equipment for recuperation therapies, including kinetotherapy and hydro-therapy.
A large part of the budget is reinvested. "In some years, investments can even exceed 50 percent of the annual budget, like it was in 2015, when we developed the new clinic. (…) The financing comes mainly from our own sources," according to Contanu.
In 2016, Orto-Clinic plans to invest in the opening of a new ultrasound and X-ray imagistic center, which needs equipment estimated at more than EUR 100,000 and more medical staff.
"Also, our annual plans include the development of two recuperation centers in the South and South East of the country, in rural areas where there is a deficit of such centers," says Contanu.
Financial expectations: Revenues are expected to increase by 30 percent in 2016, as a result of the opening of the new Imagistics center. In 2015, compared to 2014, Orto-Clinic posted 20 percent increase in the turnover, representing the average annual growth since 2010 until the present.
Number of patients: "Unfortunately, the incidence of pediatric afflictions has become manifest since birth, including rare congenital diseases. Thus, in past years, we have seen a growth in demand for the diagnostics and treatment of orthopedic conditions, such as congenital hip luxation, varus equin and neuro-motor conditions. In past years, the number of patients registered in our clinic has increased by 20 percent, but this year, we expect the number of patients to double," says Contanu.
Medical staff: "Apart from the doctors and therapists who are working in the clinic, we are also collaborating with orthopedics and neuro-motor specialists in pediatrics, including pediatric medical services: neurology, surgery, cardiology, logaoedics, Imagistics and parenting trainers.
Market evolution: "Taking into account the amount of investments and the need for programs targeting the general public, large investments will focus on large cities. The outskirts of Bucharest and of other large Romanian cities (…) could also have a development potential. But, even in Bucharest, there is an unbalanced polarization of medical services exclusively dedicated to children. For instance, in district 6, there aren't sufficient kineto- and hydro-therapy specialized centers, as part of the medical recovery dedicated to small children," says Contanu.