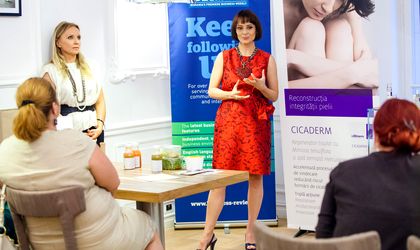 Last week, Business Review organized an informal summery gathering where attendees could get tips on how to cultivate beauty inside and out from two successful Romanian entrepreneurs: Rucsandra Hurezeanu, founder and general director of Ivatherm and Camelia Sucu, owner of Iconic Health Concept, also the host of the event. By Oana Vasiliu
Beautiful inside …
Free-flowing conversation and a cool breeze in the shade of one of Bucharest's hidden gardens, Iconic Food Wine & Design, were the secret ingredients of this lesson in beauty. In 2012, Camelia Sucu started to offer a detox program, which has been tried and tested in detox centers all over the world. "A harmonious lifestyle means balanced nutrition, exercise and a detox program at least two or three times a year. My personal belief is that we can have a good life if we want it and if we know how to take care of ourselves, and I'm really happy that clients who have started the Iconic Health program can see the benefits and do the program once or twice a year," said Sucu in her opening address. At Iconic, Sucu offers a wide variety of detox plans and products, from healthy juices to colonic hydrotherapy recommendations and even post-detox menus. Prepared in cooperation with nutritionists and doctors, Iconic Juices are 100 percent natural drinks made from unique recipes and at optimal dosage, she said. The secret of these detox juices, according to the entrepreneur, is the type of squeezing, using cold pressure, not spin, in order to keep all the nutrients intact. During the program, followers have six meals per day: four raw juices, a salad and vegetable soup. The programs on offer include basic detox, with four natural juices per day, a salad, a protein supplement made of quinoa or tofu and a soup; advanced detox, which can be done over five, seven or ten days with six meals per day, very similar to basic detox; and master detox, recommended for three or five days, containing only five natural juices, vegetal milk and soup. Detox prices run from RON 600 to RON 1,200 for the basic program, RON 550 to RON 1,100 for advanced and RON 350 to RON 550 for the master regime. The menu should be complemented by a holistic approach that involves colonic hydrotherapy, lymphatic drainage and other procedures to attain various objectives: the rapid loss of excess weight, extra energy and general toning.
…glamorous outside
Innovation and efficiency in anti-aging therapy was the topic that Rucsandra Hurezeanu chose to discuss with the women invited to the event. Coming from a family of medics, Hurezeanu followed suit, graduating from medical school and then taking a pharmaceutical marketing master's at Ecole Superieur de Commerce de Paris. She took an EMBA and obtained her PhD in infectious medicine. After experience in the local and French pharmaceutical industries, she founded her own beauty products firm, along with her mother, based on thermal water extracted locally from the Herculane source. Herculane thermal spring water used in Ivatherm products comes from a saline spring and has a medium degree of mineralization (2500 mg/l), which is ideal for cosmetic products, she told attendees. It contains Al, Cu, Fe, Zn, Mg, said to be essential elements for the skin's health, conferring a calming and anti-irritant effect on the skin . "Besides the Herculane thermal water, all our products contain 95-97 percent natural ingredients, with a special focus on vegetal and scientific innovation," said Hurezeanu. She listed as the ultimate products for skin care Glycokines, natural sugars obtained through biotechnology; Viniferol, the extract of Bordeaux vine stalks; Macadamia oil; MDI complex, an extract of marine cartilage; Alpha-bisabol, a well-known anti-inflammatory obtained from Vanilomopsis Eritropapa, an Amazonian tree; PhytoCellTecTM Alp Rose, a natural extract of Rhododendron ferrugineum, a plant found in the Alps; and Cupuacu butter, obtained from the fruit of a wild tree in the Amazon rainforest, among the most important ingredients helping skin to "fight" signs of aging.
More pictures from the Event on BR's Facebook page.