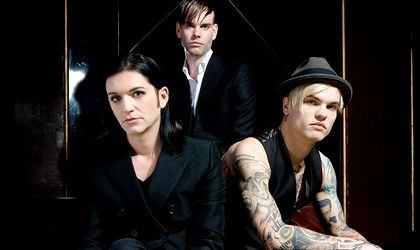 Alternative rock band Placebo are back from their one-year hiatus with a bunch of concerts that will also bring them to Romania on August 6. The venue: Iolanda Balaş Soter stadium in Bucharest.
This is Placebo's third visit in Romania after two very buoyant concerts in 2006 and 2009 when they energized a very young crowd, whom frontman Brian Molko called "the children of Romania," that sang in chorus all the lyrics of their songs.
Placebo- frontman Brian Molko, bass player Stefan Olsdal and drummer Steve Forrest- are no strangers to controversy. The members of the band have always been very open about their sexual orientation- Molko is bisexual while Olsdal is gay, and their music is all about freedom of speech, drugs and sexuality.
At the beginning of this year, the trio announced they would be back in the studio to work on their seventh album, and leaked some of the major European festivals where they would perform: Rock Im Potts and Highfield (Germany), Frequency (Austria) and Sziget (Hungary).
Originating from Britain in 1994, Placebo went on tour with the likes of David Bowie or Depeche Mode, and gained international recognition once the piece Nancy Boy was out, To date, they have sold about 11 million albums and released six records.
Their most appreciated albums are Without You I'm Nothing, that includes Pure Morning, one of their best hits, in duet with David Bowie, Black Market Music, Meds and Battle For The Sun.
The concert is organized by TM LIVE. Tickets sell at RON 145 (seated), RON 125 (lawn A), and RON 95 (lawn B). Tickets are available online at www.bilete.ro and at Romanian Post offices marked as Bilete.ro.
At the venue, tickets will sell for RON 190 (seated), RON 160 (lawn A) and RON 125 (lawn B).
Otilia Haraga