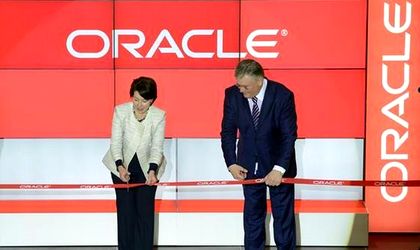 The Romanian office of technology corporation Oracle is the fourth most important branch of the company worldwide and the second in Europe, after the one in the United Kingdom, according to Safra Catz, president of Oracle Corporation since January 2004, who made this statement during an official visit to Romanian president Traian Basescu at Cotroceni Palace.
According to Basescu, the investments made by Oracle in Romania have turned it into a global hub of the company, which currently creates around 2,700 jobs, according to a press release of the presidential administration.
Catz also mentioned that Oracle has trained approximately 100,000 young people and over 2,000 high-school teachers through the programs it implemented in Romania.
 Oracle inaugurates new headquarters in Bucharest
The Oracle president Safra Catz has today inaugurated its new green headquarters of the company in Bucharest, located in Floreasca Park, which can house 2,500 employees.
"Our expansion in Bucharest signals our success in the region," according to Catz.
The new headquarters consolidates two other Oracle locations in the area. The company also has offices in Nusco Tower.
Oracle entered the Romanian market in 1992 and opened the first service & technology centers in Bucharest in February 2004.
In picture: Safra Catz, president of Oracle Corporation and Sorin Mîndruţescu, country leader Oracle România.
Otilia Haraga