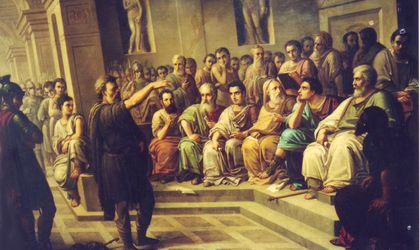 Temporary exhibition The National Myth: Visual Arts and Romanian Identity aims to provide a visual history lesson, with a series of works by major national artists outlining Romania's changing identity over the course of a hundred years.
 Oana Vasiliu
Almost 250 paintings, sculptures, prints, drawings, and ceramics by major Romanian modern artists spanning the period from 1830 to 1930 trace the prevailing themes of Romanian history. Barbu Iscovescu, Constantin Daniel Rosenthal, Carol Popp de Szathmári, Gheorghe Tattarescu, Theodor Aman, Nicolae Grigorescu, Ioan Andreescu, Ştefan Luchian, Nicolae Tonitza, Oscar Han, Camil Ressu and Dimitrie Paciurea, among others, all made important contributions to framing an enduring set of almost "mythical" references to national identity in times of great political and social upheaval.
Romanians' Latin roots, territorial unity and the struggle for independence are all charted in the landmarks that shaped the emergence of the Romanian national state: the 1848 Revolution, the union of the Romanian Principalities in 1859, the advent of Prince Carol I of Hohenzollern as ruler of the Romanian Principalities in 1866, the War for Independence of 1877-1878, the declaration of Romania as a Kingdom in 1881, and the making of Great Romania in 1918.
The exhibition takes its inspiration from two books by Romanian historian Lucian Boia, History and Myth in Romanian National Consciousness, and Toward a History of the Imaginary, and investigates the glorification of national history, beginning in the latter half of the 19th century and extending into the 20th century. The political role of art during the 19th century is marked in works including portraits of revolutionaries of 1848, allegories embodying the ideals of unity and independence, landscapes designed to show the beauty of the homeland, and in particular historical scenes inspired by contemporary events. For example, Michael the Brave became the symbol of unity for Romanians, while Stephen the Great and Vlad the Impaler were heroes in the fight for independence.
The foremost modern Romanian artists also show a drive for subjects drawn from the folk tradition, presenting the rural world in its true colors. The national identity is embodied by the rural universe and the idealized image of the Romanian peasant, especially endorsed by the immense popularity of Nicolae Grigorescu's works, which formed the basis of the future development of Romanian fine arts.
The artworks on display belong to the National Museum of Art of Romania as well as other museums in Bucharest and around Romania: the National Museum of History of Romania, Bucharest City Museum, Gheorghe Tattarescu Museum, the Brasov Museum of Art, the Moldova National Museum Complex of the Iasi Art Museum, and the Iulian Antonescu Museum Complex of the Bacau Art Museum.
The National Myth: Visual Arts and Romanian Identity (1830-1930), the National Museum of Art of Romania, until February 13, 2013, Wednesday to Sunday from 10.00-18.00.l
oana.vasiliu@business-review.ro