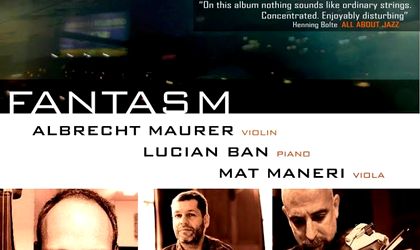 "One of the most gifted and talented pianist to come to NY in the past decade" as is considered Romanian pianist Lucian Ban returns to Romania with a trio concert together with violinist Albrecht Maurer and violist Mat Maneri, which will start at Odeon Theater on November 10 and continues nationwide. They will present to the Romanian public "Fantasm" album, considered by the Danish jazz critic Hennig Bolte "Enjoyably disturbing".
Lucian Ban, Mat Maneri and Albrecht Maurer have first collaborated in the award winning third stream extravaganza Enesco Re-Imagined, their CD release appeared on many critics "Best of 2010" lists and featured a stunning group of musicians – Badal Roy, Tony Malaby, Ralph Alessi, John Hebert, Gerald Cleaver among others – in a daring re-imagining of the works of famed Romanian violin virtuoso George Enescu.
From modern jazz to contemporary chamber music, from completely structured compositions to free improvisations, Fantasm is an authentic expression of cultural globalism of the 21st century, a project that brings together many cultures into a unique work of art. The three musicians share a common curiosity for new forms of musical expression – Fantasm is both an album and a vehicle for this search.
Trio Fantasm will be on tour between November 10 to November 15 in Romania as follows: Bucharest, November 10, Bistrita, November 12, Cluj Napoca, November 13, Alba Iulia, November 14 and Timisoara, November 15.
Tickets can be bought online from here or from the Odeon Theater box office. Prices are RON 53 for first category and RON 32 for second category. After concert, the Trio Fantasm will meet the public.
Oana Vasiliu