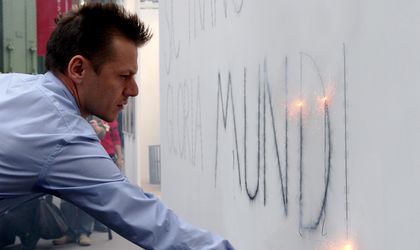 More than 1,200 people have attended the opening of the first local solo exhibition of one of the most important young artists to emerge on the international scene over the last decade: Mircea Cantor, winner of the Prix Marcel Duchamp Award 2011. The QED exhibition, the largest survey of the artist's works to date, comprises 30 pieces.
By Oana Vasiliu
Working with symbols in a landmark building is the challenge at the heart of this exhibition. "The People's Palace"/ National Museum of Contemporary Art has a very powerful, symbolic meaning and I needed to bring the most famous works of art from my career here, as well as vigorous, solid pieces to reflect the imposing building," Cantor told BR. Exhibition areas that retain elements of the original decoration, and testify to the traumatic past of the building where the museum is located, host large-scale, catalytic works by Cantor: a gigantic wall drawing in dynamite wire, ignited at the grand opening, and a life-size wooden sculpture representing a traditional house with a scaffolding roof from Maramures county in northern Romania.
The exhibition consists of photographs, videos, drawings and sculptures, from the artist's 1999 The Origin of the World (After Courbet), a work that prompted Cantor's relocation to France, to the recent Sic Transit Gloria Mundi (2012), and Business Class Worried (2013), especially created for the Romanian event.
Asked about the scale of the MNAC grand opening, Cantor said that the Romanian public is fantastic, very open-minded, and wants quality cultural events. "As an artist, it is very important for me to be careful what works I put up for contemplation. I find this an enormous responsibility, as John Cage presented the term – response and ability, meaning the capacity to give answers," added the artist.
QED will run for a year. Special events and a rotating program of video works are scheduled for early September. The Guest Room, a space integrated in the exhibition, will each month host a work by an artist or an acquaintance.
Works in the exhibition (April-September 2013) include: Unpredictable Future, 2004; Deeparture, 2005; Ciel Variable, 2007-2013; Threshold Resigned, 2012; DNA Kiss, 2008; Diamond Corn, 2005, All the Directions, 2000; Wind Orchestra, 2012; Vertical Attempt, 2009; Double Heads Matches, 2002-2003; The Origin of The World (After Courbet), 1999; I Sell My Spare Time, 2009;  Europe Supported by Africa and Asia, 2009; More Cheeks Than Slaps, 2011; Holy Flowers, 2010; Fishing Fly, 2011; Eyes Staring to My Absence, 2008; Sic Transit Gloria Mundi, 2012-2013; Business Class Worried, 2013; I decided not to save the world, 2011; Rainbow, 2010; With a Free Smile, 2007; Hymn For a Big Day, 2012.
oana.vasiliu@business-review.ro