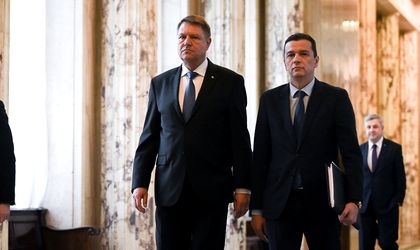 After 10,000 people protested in front of the Government building on Tuesday night, over the approval of controversial amendments to the Penal Code for the partial decriminalization of abuse in office, PM Sorin Grindeanu claimed he will not step down.
Grindeanu, who has been PM for little over one month, told the head of Antena 3 TV station, Mihai Gadea that he plans to remain in office.
"He said he was an intoxication 100 percent, and that he will not resign, and that he still wants to remain in power," claimed Gadea.
People also took the streets late last night in other cities across Romania, after Sunday's protest, when around 90,000 protesters swarmed the streets against the controversial bills impacting the judiciary.
In the same meeting, the center-left government decided to submit to the Parliament the pardon draft bill.
"It is inadmissible, unacceptable, it is a scandal, a mockery, how you want to put it. The Government cannot adopt during the night, without CSM's opinion, without being on the agenda, an ordinance in such a sensitive area," said president Klaus Iohannis, on Wednesday morning, before attending a meeting of the National Council of Magistrates (CSM).
Late last night, the president wrote on Facebook that the rule of law was hit hard by the opponents of the anticorruption campaign.
What are the main changes?
Under the proposed changes that have been published in the Official Gazette and will be enforced in 10 days, the abuse in office charge will be dropped if the computed loss is less than RON 200,000.  Also, the public sector officials will not be accused of abuse in office for the issuance, approval or adoption of laws. In addition, in case of the favoring the perpetrator offence, if it is carried out by member of the family or close relative, prosecutors will not be able to do anything.
In addition, the denouncement mechanism was also changed so that a person can denounce an illegal practice that was carried out up to six months before.
The minister of Justice, Florin Iordache, said the definition of abuse in office was amended "in line with the decision of the Constitutional Court".
All these changes were approved through an emergency government decision.
Changes could be challenged at the Constitutional Court
According to media reports, the head of the Social Democratic Party PSD, Liviu Dragnea, and ex-MP Elena Udrea are among the politicians put on trial for corruption that could benefit from these changes to the penal legislation.
HotNews.ro cited sources according to which the Superior Council of Magistrates could challenge the government decision at the Constitutional Court.
President Iohannis initiated in late January the procedures for the organization of a referendum over Romania's ongoing anti-corruption campaign.
Ovidiu Posirca