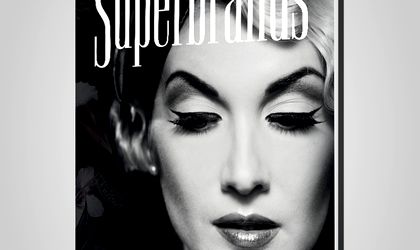 In a world dominated by ongoing transformation and driven by fast moving technology, brands become more powerful, and for some consumers, they become even Superbrands. What defines and represents a Superbrand for Romanians, what are the drivers behind it and what brands hold the top spots, are some of the insights in the 2015 edition of the Superbrands study, conducted by BDR Associates.
Anda Sebesi
With no major, structural shifts from 2013 in the Romanian social and economic context, we notice some constants, but also a more visible shift towards individuality and personal needs focus, brought in by the wider context of the slowly-fading effects of the crisis. Among the continued trends, the most important seems to be digitalization, from gadgets to apps and "the internet of things." Secondly, we are witnessing a permanent evolution in the modern retail model, impacting producers as well as consumers.
But how do these things impact brands and the way they are perceived? As pundits say, the answer is not simple and can be found in many dimensions, brands performance being a relevant indicator in this regard.
For example, the personal care segment has become more visible during the past couple of years, with an increased number of brands cluttering the category, a bigger push on communication, indicating a possible end of the crisis. It is not only international brands that are increasing their visibility and presence, although these are the most "outgoing," but also Romanian brands which are trying to find a spot in people's minds.
The structural changes in the retail domain are maintained and involve the rise of new players in the market, of new formats and consumption logic. Focus on consumer needs is key in this regard and those retailers that have managed to understand their shoppers by delivering relevant shopping experiences, for example, have managed to gain territory. On one side of the coin, the variety of brands offered is extremely important. On the other side, traditional market leaders are starting to face competition coming from private labels and from smaller brands which promise different, unique experiences to consumers.
Elsewhere, tablet and smartphone penetration among Romanian consumers has increased to unexpected rates during the past couple of years, in line with the global trend. With fierce competition, the brands in technology need to constantly prove they are worthy of participating in this market where changes take place at a very high speed.
The impact on brands goes far beyond the gadgets area and involves all brands, from retail to entertainment, from banking to FMCG and automotive, which need to constantly keep the pace with digital evolution, by finding new ways to reach the consumer and prove their strength and relevance. The consumer's link to brands is becoming a permanent process, impacted strongly by the digital experience and by what the brands manage to deliver in terms of experience.
Directly related to this, driving and being driven by this whole process is the expansion of Facebook. Brands have started to understand the huge impact this medium can have and currently all major players across markets have Facebook accounts and communicate heavily on a regular basis. The full potential of Facebook, although not stretching as much as a couple of years ago, is far from being reached and other impactful similar social media are yet to evolve.
Gaining in audience, Facebook has become a mass tool and some brands switch from it towards other, more niche applications which are more focused on specific professional interests. These are specifically the brands with narrower audience that are looking for very specific targets, with very clear-cut innovative dimensions and which have defined themselves through such traits. At the same time, Facebook has become a "must" for any brand communicating to broader targets and aiming for mass consumption. In this " battlefield," brands need to find smart and relevant ways of communicating closeness and delivering their defining traits.
What turns a brand into a Superbrand
According to the representatives of BDR Associates, the company that has conducted the Superbrands study in Romania for 10 years, when defining a Superbrand, there are three dimensions that emerge as relevant, from the research conducted, in terms of constructing this notion. First, it is about quality, defined as the belief that the products / services provided by the respective brand are good quality. Second, it is about reliability, which implies that the brand delivers consistently and always keeps its promises. Last but not least, it is about distinctiveness, which means that the brand manages to differentiate and stand out from the competition. According to them, all these dimensions should be looked at, when talking about Romania, while taking into consideration the specific cultural, social and economic context.
The Romanian cultural context
In order to be able to fully understand how brands become Superbrands, there is a need understand the Romanian cultural context. This enables us to recognize the drivers behind each brand performance and realize the interactions that happen in people's subconscious. As indicated in most socio-psychological and anthropological research, Romanians are a rather conservative, paternalist and tradition-oriented society. Family is a key, central element in the Romanian culture, along with health care.
At the same time, under the spur of the global trend, Romanians have a strong need for evolution, for bettering themselves and are open to innovation. Brands that manage to stand on both these pillars of tradition and safety, but innovation as well, get Romanians' appreciation. At the same time, in recent years, there is an increasing trend of challenging the norms. This is all about overcoming limits, freeing from conventions and daring to do things differently.
Becoming a Superbrand in Romania
People unconsciously analyze and create relationships with brands they interact with every day. And some of the brands become Superbrands for them. Superbrands have the ability to provide strong emotional and functional benefits. Leadership, trust and dynamism, the three key dimensions that define a Superbrand in the local market, have been identified in previous surveys and tested again, as well, for the current Superbrand list. Brand communication and identities serve different needs but underlining the above dimensions is necessary in order to become a star performer in Romania.
According to the study, leadership is the dominant code of a Superbrand. It is the most tangible aspect that can make a brand stand out from the crowd. It is the role model that drives evolution, both as a group but also at a personal level. Being a leader is acknowledged by everyone, it is easily recognizable by everyone. Leadership brands are not born overnight, but are built on a long-lasting tradition. As such, a leader differentiates itself through a unique image, both at a functional as well as an emotional level.
The same study shows that leadership is highly relevant for almost two thirds of Romanians. However, it is more specific for a traditionalist part of the population, generally living in small and medium urban settlements from Muntenia and Moldova. People highly influenced by leadership are older (45+ years old) and more likely to be married and females. They have a more basic demographic profile, with medium and low education and income, and more likely to be blue collar workers.
The second attribute, trust, becomes a residual, latent code within the Romanian culture. It is a prerequisite of any successful connection with a brand. A trustworthy relationship is needed in order to further build and develop, to move forward and grow. The same study shows that trust is achieved by constantly delivering high quality, according to the promises made. It is the trait of expert brands, which have an excellent reputation. At a personal level, 'a brand that I trust' makes one feel safe, secure, not having to worry about any negative outcomes of the relationship.
Trust is a key driver for almost one quarter of Romanians, with a higher presence in Transylvania and among large urban settlements. This dimension is more likely to be appreciated by younger women (25-44 years old,) both single and married. People looking to trust their Superbrands are more likely to have higher education and income, being more white collar workers or having managerial positions.
Last but not least, dynamism is the emergent code in Romania. It is becoming more and more important and cannot be ignored by brands that wish to establish a strong position on the Romanian market. It is the way to become aspirational and truly stand out from the crowd, building the path to the future.
Brands that build on dynamism are those which innovate constantly, through any means available: product, package, communication. These are the brands that inspire people, which generate new ideas and answer needs that people are not yet aware of. However, people do not appreciate innovation for the sake of innovation. Any advancement must be relevant and credible, through strong reasons to believe. Dynamism is still a growing trend, highly appealing for a limited number of Romanians – generally youngsters (18-24 years old,) mostly students and people living in Bucharest.
Drivers behind Superbrands
When understanding the rationale behind how Superbrands are constructed, it must be said there are latent factors which change very little from year to year and which are defining for Romanians. Therefore, a similar model to the one in 2013 has been used in defining relevant factors in building Superbrands.
Thus, the order, the definitions and directions are similar to the previous research wave and relate, first and foremost, to constant quality delivery. Then, a Superbrand, in the Romanian cultural context is very much about tradition, about time-proven name and image. Beyond this, it is important for a Superbrand to be knowledgeable, the expert in its domain. All these aspects comprise a "premiumness" dimension. Once these are established, word of mouth is inherent for the superbrand and will be characteristic for its definition as such.
Top 10 Superbrands in 2015
This year's top has both names that were present previously, as well as newcomers among the elite of Superbrands. However, all of them base their performance on constant, maintained actions of communication, sustained by constant delivery of promises.
Ariel and Pampers have gained first positions, proving a visible shift towards personal care. At the same time, the presence of Mercedes-Benz indicates that "premiumness" is still in focus and proves the preference for German, technological, established and proven value.
Top 10 risers
Out of the Top 100 Superbrands this year, some of them have acknowledged important positive evolutions compared to 2013, in terms of the overall score obtained.
A way of understanding the positive evolution of a Superbrand, in a broader perspective of the whole Superbrands environment, is by looking at the number of places gained in 2015 compared to 2013. Brands related to personal usage, either personal care, fashion or FMCG are preponderant in the top 50 and 100 on gained positions, indicating a possible shift towards a more individual, self-focus of the consumer, impacting brands that speak more in their communication about this personal dimension. Then, it can be noticed that the positive evolution is more in favor of the international Superbrands, meaning communication and marketing, as well as all other brand-building activities of global brands were more impactful. Other things to note are the impact of digital (Facebook,) but also retail and banking categories, indicating increasing relevance of consumption, as a sign of the possible end of the financial crisis.
Top 10 categories
The most present categories in this year's top remains Media, with numerous players and a rising online direction. At the same time, players in this category include traditional channels as well, indicating beyond the trend in digital, that trust in brands is still built upon a proven, long, track record in the market.
The increased presence of the personal care and pharmaceuticals categories is not surprising, given the mentioned trend towards a more intimate, personal focus of consumers. Milk, dairy and confectionery are very much about indulgence, about enjoyment and reflect, once again, the shift in consumer habits and focus.
Drops in the number of Superbrands by subcategory
Alongside the previously mentioned evolution of the shift towards a more personal focus and a more personal relationship between brands and consumers, there is another trend that comes as a result of this, but also, most likely, as a consequence as well of the previous, crisis years. This second trend is related to a brands "screening", meaning some of the previous strong brands do not manage to maintain their position, in contrast to the significantly improved performance of some other brands in the respective markets, a process which impacts the overall evolution of the categories. These include automotive/ cars; spirits; personal care; tech; beverages – water; fashion kids; home care and hotels.
Increases in the number of Superbrands by categories
Increases in the number of brands inside given categories can indicate changes taking place that are impacted by a wider socio-economic evolution. Thus, if we look at the fact that the Construction & Household category has one of the largest increases in number of brands, we can relate this to the slow de-freeze of the construction/ real estate market and the positive evolution of the segment. This also adds up and builds upon the latest performance of some of the brands in the category, such as the newcomer Dedeman. These include media; fashion; private labels; construction & household; meat and fish products; milk, dairy and ice-cream; pharmaceuticals. An interesting thing to note here is the increasing presence of private label brands, directly related to the various retailers positive trend in expanding into new areas and opening new locations, building up a modern trade presence across the country.
New arrivals
Beside the moves that take place inside the Superbrands, within each wave there are some newcomers that manage to enter based on market evolutions, tendencies and activities. The first 10 newcomers in the Superbrands list are: Dona (position 26); Lays (position 30); Poiana (position 62); Flanco (position 71);Telekom (position 93); Moulinex (position 95); Delma (position 106); Savana (position 119); Axion (position 128); Romantic FM (position 142). The newcomers are not necessarily from a specific category, but rather from various areas. While we do have newcomers because of their actual entry on the Romanian market (such as Telekom), we also have brands that were already present, but which seem to have stood out now more due to various factors: increasing footprint and loyalty activities (such as Dona pharmacies), or being more present in consumers' minds (such as Flanco or Romantic FM), taking advantage of market trends (such as Savana).
Romanian Superbrands in 2015
Romanian Superbrands in the top 100 come from various domains, such as banking, housing/DIY, technology, media or FMCG. Most of these brands have been active and have managed to gain share and visibility through acquisitions, through constant development and through an increase of their imprint on the market. Categories they belong to are also characterized by consumption habit shifts, re-established openness towards banking and finance, as well as care for health issues.
Research methodology
The entire selection process within the Superbrands Programme 2015 was managed by Superbrands Romania, which is represented by BDR Associates, the strategic communication agency, partner of Hill+Knowlton Strategies in Romania. For the current edition of the program, Superbrands Romania commissioned IPSOS Research Romania for the implementation of the market research component. The key stages of the selection process were: Comprehensive Data Base. Almost 1,500 brands were initially considered. At no point in the selection process did brands submit an entry for consideration. Rather, Superbrands, with the assistance of the research company, identified key brands operating in Romania from across 54 industry sectors. Short List. The list was then analyzed and scored by the independent and voluntary Council of experts, all of whom possessed familiarity with the brands and did not hold any business associations with them. The Council's scores were then collated and ordered by collective average score into a league table. Brands that had scored less than a quarter of the Council were eliminated. Only 596 progressed to the final stage for further consideration. Public Vote & Market Research. These remaining 596 brands were voted on by 1,500 members of the Romanian public between the ages of 18 – 54. Consumers hailed from all across Romania – from large, medium and small cities. This process resulted in the creation of a final "index score". The 300 Superbrands list, as voted on by Romanian consumers were invited in a final survey for consideration of Superbrands status.
The brands that have been awarded Superbrands status and participate in the program are given permission to use the Superbrands Award Stamp. This endorsement provides potential consumers, media outlets, and investors with concrete evidence of the exceptional standing that these Superbrands have achieved. Member brands use the stamp on a wide range of external and internal communication channels, including product packaging, POS items, advertising, websites and annual reports.