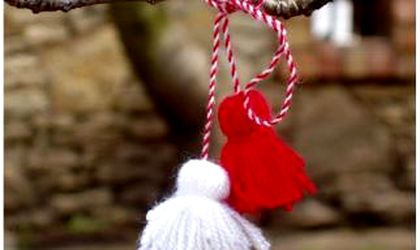 Receiving, giving or exchanging amulets for Martisor, the local celebration of the arrival of spring, is about the continuity of sharing our lives together, friendship and mutual appreciation. It is more than a gift; it is symbol of wishing each other ongoing luck, hope, love and prosperity. Want to get involved? Here are our recommendations for where to buy the Romanian symbol of spring.
According to tradition, an amulet or good-luck charm is given on 1 March, which must be tied with a red and white string (the string is more important than the amulet itself) to bring health and good luck. The tradition spread from the countryside to the town at the turn of the century. The first to present such trinkets to their daughters and wives were gentlemen of a certain economic standing, since, back then, small objects of gold and silver were usually connected to the red and white strings.
Gold and silver pendants are still among the most popular Martisor gifts. In the region of Moldova, "martisoare" are typically given to men by women while women receive flowers. Some of the most popular amulets include the "chimney sweeper" (believed to bring luck because his work prevented fires from starting), the horseshoe and the clover.
In Bucharest you can find "martisoare" at the following fairs:
Sala Dalles (18 Nicolae Balcescu Boulevard) February 25 to March 8;
The National Museum of Geology (2 Kiseleff Boulevard) February 26 to March 9;
Muzeul Taranului Roman/the Romanian Peasant Museum (3 Kiseleff Boulevard) February 27 to March 2;
Palatul National al Copiilor/the National Children's Palace (8-10 Tineretului Boulevard) February 27 to March 2;
Manuc Inn (62-64 Franceza Street) February 28 to March 2.
Oana Vasiliu