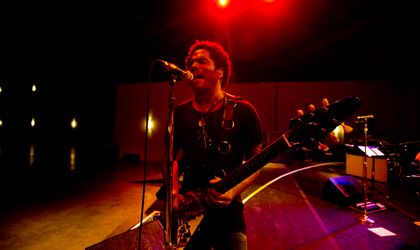 Constitutiei Square will feel the vibe of Lenny Kravitz music as the artist will be performing in Bucharest as part of his Black and White America world tour on September 28.
Black and WhiteAmericais the ninth studio album recorded by the American singer, songwriter, multi-instrumentalist and producer. It was released on August 30, 2011.
The story for Black and White America begins like this: "I was channel-surfing in theBahamasone night and came across this documentary," the artist recalls. "I don't remember what it was called, but it had all these people talking about President Obama— how they didn't approve of his being elected and wanted to take their country back, any way they could. I know that there's racism, but to hear people voice it in such a hateful way — I had to write a rebuttal."
This album references Martin Luther King, Jr. and Kravitz's parents, who, like Obama's, were an interracial couple in the early 1960s. Kravitz notes that his mom, the black actress Roxie Roker, also became half of TV's first mixed-race couple as Helen Willis on the '70s sitcoms All In the Family and The Jeffersons.
"All my albums are positive, but there's usually at least one song with a sadness or deep darkness. But this one is completely happy. My life has never been better," Kravitz says.
Kravitz produced and played most of the instruments on Black and WhiteAmerica, bringing in regular guitarist Craig Ross and Trombone Shorty for the horn section. In addition to guest appearances by Jay-Z ("Boongie Drop") and Drake ("Sunflower"), the album includes a song co-written with Swizz Beatz ("Sunflower").
Radio programmers have already responded to the poppy first single "Stand," which rises 33-29 this week on Billboard's Adult Top 40 chart. During his career, Kravitz has scored 16 Billboard Hot 100 hits (two top 10s: "It Ain't Over 'Til It's Over" and "Again"), 12 Adult Top 40 hits (four top 10s), 13 Alternative hits (one No. 1: "Fly Away") and 14 Mainstream Rock hits (two No. 1s: "Are You Gonna Go My Way" and "Fly Away").
Tickets for Kravitz's concert can be purchased online at Eventim or in the Eventim network which comprises Germanos, Vodafone,Orange, Domo stores, Humanitas and Carturesti book stores.
Ticket prices until August 1 will be RON 111,83 (Normal Stage), RON 170,40 (Golden stagE), RON 298,20 (VIP). For more information, you can access Lenny Kravitz's official webpage here.
Oana Vasiliu