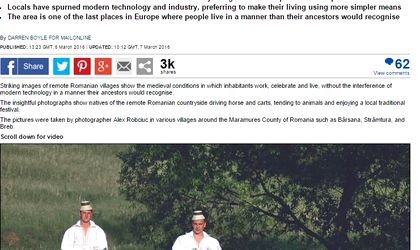 Some of the remote villages in Maramures County – northern Romania, which have been made famous by Prince Charles, were mentioned in an online article published by Daily Mail Online.
In an article entitled, "Life in the land of no selfies: Portraits from the remote Romanian villages where cameras are rare – and residents fight to keep a medieval lifestyle alive", journalists have published a series of photographs made by Alex Robciuc.
The Romanian photographer has travelled through various villages in Transylvania. He said that some of the people he met aren't used to having their photo taken.
"The village of Breb is much loved by British monarchy and Prince Charles is known to have spent many holidays in the remote village.
Alex said: 'Breb is well known because Prince Charles gifted his first grandson with a land full of mountain flowers in Transylvania."
The full articole is availabe at this link.
Ovidiu Posirca