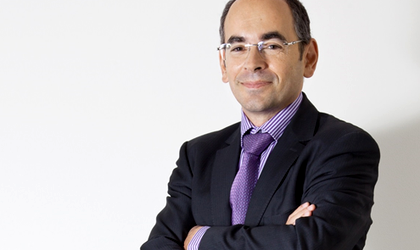 Yves Caracatzanis will be the new general director of the Renault Romania group and Dacia, replacing Nicolas Maure, who will become the president of Avtovaz, Russia, a press release by the company announces.
Yves Caracatzanis, 51, will work under the coordination of Denis Le Vot, senior vice-president, director of operations of Renault for the Eurasian region, including Romania.
Born in 1964 in Marseilles, Yves Caracatzanis is an engineer, a graduate of Ecole Centrale de Paris. He started his career with the consultancy firm Bossard Consultants, then at Hewlett Packard. In 1992 he joined Renault as head of the logistics organization project. In 1995 he joined the Flins plant where he successively occupied the posts of chief of manufacturing assembly workshop, painting department head in 1999, and head of service quality in 2002. In 2005, he became director of the Renault Group engineering vehicle prototypes. In 2008, he participated in the creation of the group's supply chain division (logistics), becoming its director in 2010. He has been the industrial and supply chain director for Eurasia since 2013.
Born in 1960 in Orleans, Nicolas Maure is an engineer, a graduate of the Ecole Centrale of Paris and holder of an MBA from Institut Europeen d'Administration des Affaires (INSEAD). Between 1985 and 1987 he was a consultant at Boston Consulting Group (BCG). He continued his career in the automotive field, in Valeo (1988-1993) and Faurecia (1993-2000). In 2000 he began his work at Renault as director of procurement for parts and accessories, and then became quality plan director and general manager of the Societe de Transmissions Automatiques. Between September 2006 and August 2008, Nicolas Maure was the director of the Dacia Mechanics and Chassis Plant. After time spent in Romania, he became the mechanics vice president of Renault-Nissan Purchasing Organization and performance director of Renault Manufacturing. Since January 2014, he is CEO of the Renault Group Romania and president-general manager of Automobile Dacia.
Natalia Martian