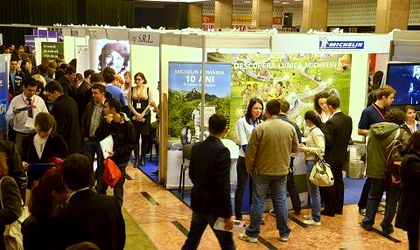 Over 3,000 jobs offered by 90 companies with activities in IT&C, outsourcing, consultancy, banking, engineering, FMCG and retail will be up for grabs during the Angajatori de TOP (Top Employers' Fair) that takes place between March 30-31 at the Palace Hall in Bucharest.
Organizers of the fair, Catalyst Solutions, expect around 15,000 candidates at the event.
The bulk of the open positions are to be found in IT, telecom, outsourcing and consultancy.
Many jobs are to be found in departments such as accounting, human resources, tech support, IT, software development and maintenance, logistics, sales and customer relations.
See below what companies will be participating in the event.
IT: Microsoft, Intel, Bitdefender, Ixia, Oracle, Infineon Technologies Romania, Electronic Arts, TeamNet Collaborate, 1&1 Internet Development, Digital Optics, Gameloft, Star Storage, Google, Siveco
Telecom: Ericsson, Huawei Technologies, Luxoft Romania, RCS&RDS, Radcom, and Orange
Outsourcing: Accenture, Genpact, HP, Stefanini, WNS Romania, Competence Call Center, CGS – Computer Generated Solutions, Webhelp, Wipro Technologies
Engineering: Michelin, Grup Renault Romania, Tenaris Silcotub, Lafarge Gips, Carpacement Holding
Banking: BCR, BRD, Raiffeisen Bank
Consultancy: Ernst&Young, Bearing Point, Deloitte, PwC, Mazars
FMCG: Coca-Cola HBC Romania, JTI, Kraft Foods Romania, L'Oréal, Nestlé Romania, British American Tobacco, Delaco Distribution, Danone, Unilever
Pharma: Sandoz, Prisum
Retail: Mega Image, Billa, Decathlon