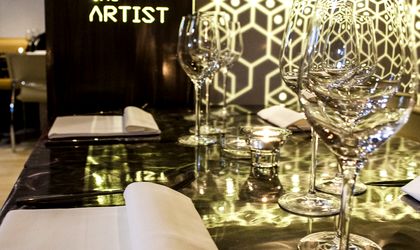 The Artist – Nicolae Tonitza 13 (TripAdvisor rated world class, and no. 15 in Europe) – review by Michael Barclay
When I read that an online review agency pronounced The Artist as the 15th top restaurant (by number of good reviews) in Europe, I was instantly skeptical as, of all Europe's great capitals, gastronomically Bucharest is amongst the worst! 
My skepticism was well founded when I saw that the agency was TripAdvisor. Scandal after scandal dogs these unregulated rogues for publishing bogus reviews praising hospitality businesses, oftentimes written by the owners and their friends, hiding behind phoney names.
There is even a massive pop-up industry who will write the owner reviews, dripping with superlative praise, all for only EUR 4 per review. It's easy money for these fraudsters as they are sitting in India and Nigeria as they write their mythical experiences.  And yes, the discredited TripAdvisor will publish them as 'real' reviews!
I am not accusing The Artist of this practice, but it does raise my eyebrow to see the restaurant's  glorified reviews published in TripAdvisor, a new one virtually every day, and all written in an identical style with consistent grammar, phrases and syntax . It looks so, so much like the same person is writing each review day after day, year after year. Very suspicious!
So if you want to see a real review, read on, and see if the food matches the hype. 
Situated on a street on the edge of Lipscani down by the river, it is boutique size, accommodating 30 covers. With halogen lights, brushed aluminum tables and chrome-framed chairs, Blondie said it is far too bright for her. "Good for 'foodies', but not for lovers" she moaned.  But here comes the menu. There are six starters and six mains, with all twelve dishes offered as a tasting menu, i.e. on a large spoon. Believe me, it will fill you, and at RON 115, it is well worth it.
The 'tasting menu' was invented by El Bulli in Girona, Spain, and exported worldwide by The Fat Duck in Berkshire, England – two of the world's finest restaurants. I was greeted by the free 'amuse-bouche', a huge plate with nibbles, all 'steaming' in a volcano of dry ice. Pure showbiz and bravo House.
There was no seasoning on the table, which is the chef's way of saying "I know what I am doing, so don't mess with my food". And he was correct, he seasoned it in the kitchen, and that was that!  
The wine list was every 'foodie's' dream come true. Clearly they are shooting for a top-dollar clientele, with a reasonably priced 1998 Haut Medoc at RON 220, through to an exquisite Margaux, and topped with my favorite- Chateau la Tour at RON 720. But as I was on a budget, I opted for one of 30 well-priced, good Romanian wines instead.         
Away we went with a 'prawn cocktail'. Forget the traditional prawn topped with a mayo and ketchup sauce. The House did it with a twist, by laying the prawn on a bed of sour apple, lemon, horseradish and a touch of Tabasco. Clever!
Off to a 'Camembert Parfait, with the cheese supported by crunchy granola, accompanied by a grape, root celery and a hint of Port wine. It got better still with a superb 'Marinated Sea bass' with a slice of Japanese radish, a mere hint of hot wasabi, with seaweed, sushi rice and a well-balanced sweetener of candied ginger.
Still on a 'fish high,' we dived into a 'Salmon Fillet' prepared Asian-style with a Thai red curry sauce, coconut milk and rice noodles. But wait, At this point I just had to register a complaint in my mind. For excellent as the food was, the strongest, hottest, spiciest and potentially dominant flavors had all been 'dumbed down' to meet bland Romanian standards. So it needed far more Port wine, wasabi, Tabasco and hot Thai curry.
There were so many more dishes I just do not have the room to review such as duck, sole, beef rib, and deer steak. Suffice it to say, they were all good. So is the House truly 15th best in Europe? Not a chance! The very notion is absurd as it would imply that The Artist is better than most of the 534 Michelin-starred restaurants in Europe. But, it is amongst the best in Bucharest, and I highly recommend it.
Oh, and do not believe anything you read in TripAdvisor. Not regarding hotels, restaurants, holidays, or airline travel prices – it's a load of bullshit!
CHEF'S TIPS
I get bored to death with people holding back on their garlic for fear of 'garlic breath'. Here is an eye opener – there is no such thing as 'garlic breath'. Your breath is perfectly fine, or even pure after eating a mountain of garlic in your food. What smells is 'garlic mouth,' for the lazy chef has chopped up his garlic, with the result that it sticks between your teeth and rubs against your gums and cheeks. No wonder it smells.
What he should have done (and you should do likewise) is to crush the garlic with a heavy knife, add rough sea salt as an abrasive – and then furiously rub it into a glorious oily mush. If you add that smooth mush to your food before cooking, the garlic infuses with the flavors of the dish, and voila! No smell! So go and kiss your loved one after your meal, and if you are a woman, think of me and thank me for your odorless breath.