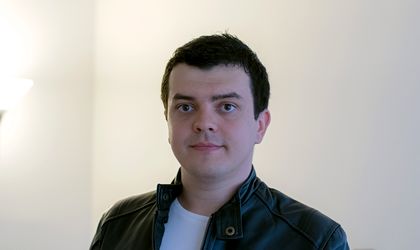 Pitesti-born Ioan Istrate graduated from the International Business & Economics – Bucharest Academy of Economic Studies and then moved to the US to pursue an MBA. His passion for technology brought him in touch with like-minded people, with whom he is currently developing a stealth startup. When he was contacted by XPRIZE, he entered the program and, together with a team, developed the upcoming XPRIZE AVATAR. We spoke to Istrate in Bucharest, on the sidelines of the Innovations for Tomorrow – Implications of the 4th Industrial Revolution on May 24.
What is Xprize?
As stated by their website, XPRIZE is a global community that implements innovative competition models to solve challenges posed by the modern world. Its purpose is to create projects that are not created by the market by bringing people together.
What project are you currently involved in?
I am involved in the creation of a startup, but we are still in the very early stages. 
How did you fund the XPRIZE project?
For the XPRIZE project we received funding and full support from ANA Airlines, Japan's biggest airline.
Moreover, we worked to develop an ecosystem of partners for this project, from small start-ups located everywhere in the world to large technology companies in the US and Japan, who all showed interest in participating. In fact, all technologies that revolve around the concept of avatar, such as VR, Augmented Reality, Artificial Intelligence and especially robotics generally are very attractive for investors.
You are based in Los Angeles. Is LA the best place to develop your ideas?
There are several places where ideas meet. In LA there are a lot of people, and companies that facilitate that. There's Boston, the Bay Area, Tokyo. There are several pols. In Europe, most companies are involved in R&D. Also, university centers such as Cambridge and Oxford are at this stage. But things are not like they used to be for instance in the '80s, when people interested in technologies and companies were all concentrated in Silicon Valley and could develop things together. Now, we work in LA, as well as in Tokyo and being remote gives us a whole other range of opportunities. Artificial Intelligence (AI) are niche fields. So, of course, there are more opportunities where the university centers and big companies are located. But the location is not the most important thing.
How does Romania stand?
There are Romanians who are involved in interesting projects, but mostly, they are not doing that in Romania, but around the world. It is a bit difficult for Romania to come up with groundbreaking stuff. Nevertheless, Romania has other competitive advantages, such as well-trained It experts. So Romania can have a substantial contribution, despite not being at the forefront.
In my opinion, production capacities will soon move back, from China, Bangladesh and more to Europe and the west. For instance, we can see this trend in the car sector. With the advent of technology and robotics, the costs will be smaller and the advantages of having plants there will no longer bring big advantages. I believe Romania can capture this flux.
How do you and your team learn new things given that you are active on a small niche?
We are all very curious people, and this keeps you always connected. We follow the Renaissance model, if you will. Personally, I read a lot and try to cultivate my curiosity. I read anything from politics, technology, literature and I try to keep a broad vision. And I try to understand the principle, the mechanism behind something, not necessarily to create things myself. That's why the team is important.
Are there women in your team?
Yes, even at this early stage there are women in our team, which is mostly made by American and Japanese.
What is an avatar?
The avatar is a system by which a user can experiment senses via a robotic terminal. The consciousness will still be located inside the human body, but the senses will be transferred somewhere else. As I said before, it is my belief that robots will never have Artificial General Intelligence (AGI), therefore humans will be able to use their mind in a robotic body. There are several potential uses for this technology. For instance, it enables people to operate in a high-risk environment without being physically present there. Also, it will allow specialists to donate their time, namely to do volunteer work in remote areas, such as Africa. According to a research I've read, most medical equipment donated to poor areas in the world lays unused, and this is where we could help. A surgeon located anywhere in the world could conduct a surgery in one of those areas, although he or she is kilometers away. In a nutshell, we will liberalize the flux of information.
When will this technology become available?
Within ten years' time it will be available.
Can the system be abused? How can you prevent crime?
It can happen, but with the use of predictive algorithms one can prevent that. For instance, big international airports are already using predictive algorithms. They scan the crowds and can predict crime based on the occurrence of suspicious movements. Also, using an avatar is very similar with handling a knife: one can use a knife to perform a surgery, but it can also be used to cause harm. It is human nature to use things for good purposes. Perhaps this will happen with robots too, the majority will be used to go good.
How does the market for robots look like? Where do you see most potential?
Robots are used by the industry sector, by the military sector and more. However, I believe the biggest potential comes on the market of robots designed for personal use. For instance, in the future, when smart homes will become mainstream, a lot of functions will be integrated in houses.
As for our technology, we can think of industries but perhaps the market wants something else. For certain, industries where people currently operate in risky environments.
Such as the military?
I believe the military sector is developing itself the type of technology. It is not a secret, and they need very specialized things.
When it comes to humanoid robots – how does it feel to talk to one?
I spoke to robots, AI programmed with linguistic functions. They are usually girls, because they sell better (laughs). It is interesting how people perceive things. It feels differently if you talk to a robot that has human-like skin, because people show empathy toward things that have a human appearance. There is a difference.
Did you get caught up in the conversation?
Well, the robots' linguistic functions were more advanced when it came to Japanese language. Also, most robots built for demonstrative purposes are programmed to catch your attention, so they talk specifically about those things that are of interest. So they asked stuff like "What is your favourite food? What food do you eat in Romania? Do you have a girlfriend?" But there is still a lot to go. But you still realize you are talking to a robot, from the answers you get. I was curious about it, but then I realized they are of course programmed to function in a partnership, to give us something we need. But I do believe that in the future there will be a lot of companion robots, which cannot replace humans, but can help us.
Currently, do this kind of robots function more based on pre-programmed algorithms or on learning algorithms?
Their behavior is mostly determined by pre-programed algorithms and less on what they can learn themselves, but they do rely on task replication.
Do they have a sense of humor?
Yes, they were pre-programmed to have humor. But you could tell. However, in the future, this will not be an issue. I heard that recently a robot beat a human at a game of Go. And the fact that they will soon write better poetry than us is not a joke, it is a reality. But still, they will not have AGI.
Would you be able to feel something towards a robot?
Well, are you indifferent towards your phone? We get attached to objects, we are not made of stone. They did not evolve that much yet, and we will have to look more into this in the future. Personally, I have a deep appreciation for the technology behind it. But it's not like having a dog that you care about. I believe we could develop a new type of feelings, because it will be a new type of interaction.
What are the challenges when it comes to this type of technology?
The challenge is to integrate the functions. They are much better than humans when it comes to specific tasks, and then, on families of tasks. So the challenge is to develop AGI. For instance, it is very difficult to tech robots how to open a door. But some say technology will evolve that much as to develop a consciousness. How can you tell and define that? How can you tell if they are lying or not?
In the meanwhile, robots will take over from humans a lot of tasks, such as research. In many places in the US the work usually done by paralegals is automated.
Another challenge refers to data storage. As the size of information increases, we will need more storage space. And we are reaching the limits of our current technology, that is why we will go beyond the classic methods and create new ones.
What is DNA based memory? And how soon will we have access to it?
DNA is made out of four proteins. And depending on how they are combined, they are storing more information. The DNA structure is efficient for data storage. So there will be artificial matter that replicates the structure of the DNA.
What kind of robot would you choose to have in your life?
The closest thing to a robot that I have right now is a microwave. I would pick something that can make my life easier by taking over my tasks – to do the laundry, iron and fold my clothes. Basic functions.