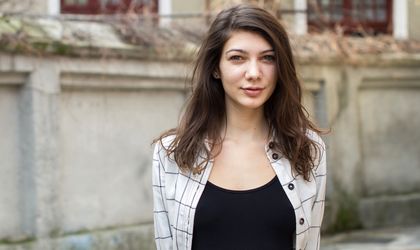 MUBI represents a hand-picked selection of independent and cult films available online, bringing together a global community of movie lovers for only EUR 5.99 per month / EUR 47.99 per year. A cine-lover can instantly stream his/her selection at home and download for offline viewing. But how is this possible and who makes it work? BR went offline with Ioana Diaconu, MUBI country manager, to understand what's behind our flat screens.
Oana Vasiliu
When did the platform appear in Romania?
As a global service for online streaming and social platform for films, MUBI has been available in Romania since 2007, right after the launching, but went to a relatively small number of people. Only in 2015 did the localisation process begin, which required the acquisition of rights from the local distributors and sustained promoting. The decision to come to Romania was heavily influenced by the partnership with Telekom Romania, MUBI being part of the Video-on-Demand offer from the operator. Thus, it was meant from the beginning for a larger market than would have been possible and became very cost-effective for us, being a newcomer on the market.
You are in the Telekom TV offer. Are you in other TV provider packages?
We offer video-on-demand for Telekom TV since 2015 and, as I said, this partnership had a great impact in the localisation process. If the site reaches mostly moviegoers, the MUBI package within Telekom has a chance to reach a much wider network. Here, the opportunity is to educate the public, to make them curious and offer them a quality alternative. At the moment, we have an exclusive partnership with Telekom.
What is the Romanian consumer profile? What genres does it like? How much time does the consumer spend on the platform?
The platform has raised, over time, a significant base of active users on the social side, being a true aggregator for moviegoers. A significant part of our viewers go to the social platform, but streaming has actually increased in recent months, validating the video-on-demand service on the market in Romania.
As a consumer profile, MUBI addresses the public who goes to film festivals, an educated public, curious and willing to step out of its comfort zone, which in technical terms, we would call the early adopters.
From a genre standpoint, there's a pretty good balance. The MUBI profile is focused on indie and cult films, fitting nicely with the consumer niche. Additionally, Romanian productions, as well as documentaries, are also very well received.
How many users are in Romania? And globally?
If in Romania we are still on an upward slope as early adopters, globally MUBI has become a stable presence in the art films niche, reaching a total of 7 million users and 100,000 subscribers. And we recently announced the launch of the China market through an investment of EUR 50 million from Huanxi Media Group, a market which was closed for many video-on-demand services, including Netflix.
How is the MUBI users market divided? Which country has the most users? And the most active users?
Currently, English-speaking countries, led by Britain and the United States, are the biggest markets. This is understandable in the light that markets which were first launched by hosting both the offices and headquarters of MUBI. Furthermore, the platform has a very high presence in France, Germany, Turkey and Mexico, with local offices in each country. As a global service, we have to underline that when you have subscribers from all over the world, and a film is released exclusively and simultaneously in all territories, as was our most recent documentary by Paul Thomas Anderson – Junun, it is seen at the same time in Jamaica, Vietnam and Iceland. This says a lot about the retail market and the growth opportunities of an online service compared to the traditional movie distribution.
How many Romanian films are listed?
In addition to the catalog of films with global rights, each territory has its own built catalog made from the offers of local distributors. The Romanian movies which were made after 1990 are online, especially those known as the New Wave movies. In each local country, we started working with local directors to bring titles to MUBI Romania and subsequently distributing them globally. To give an estimated number, in the catalog we currently have 30-40 Romanian titles, but it will continue to grow in the future.
How do you select the films?
As I stated above, MUBI focuses on cult, independent movies which can be mostly found at festivals. Obviously, the primary source of this content comes from festivals – the team that handles their tour content, and depending on what attracts attention, they get in touch with directors, producers and film distributors respectively. They also approach rights-holders of cult films, which often are acquired with global rights. In 2015, they signed the first contracts with some of the biggest production studios, Paramount and Sony Pictures, to expand the diversity of titles to include Hollywood success movies.
Who chooses Film of the Day?
Basically, the selection is made by the country representative in charge of the program, with the support from the core team of content. In the future, we will have special guests that will be curators for the selection for a given period, as well as partnerships with various festivals. All this will be reflected in the films that will enter the platform.
What will MUBI bring in 2016?
This year, we intend to offer an alternative to those who do not necessarily have access to art films or the film festival circuit. So we will have more day-and-date releases, thus meaning a movie will be available on MUBI while it enters the cinemas. Examples include Arabian Nights (2015), A Pigeon Sat on a Branch Reflecting on Existence (2014) and Blue Blood (2014). We will also begin a series of partnerships with festivals such as One World Romania, the documentary film festival dedicated to human rights, whereby a selection of movies playing in the festival will be available after the event on MUBI.
Globally, we prepared exclusive new releases, including the remastered version of The American Dreamer (1971), the documentary about Dennis Hopper, which will be available on MUBI on February 12.