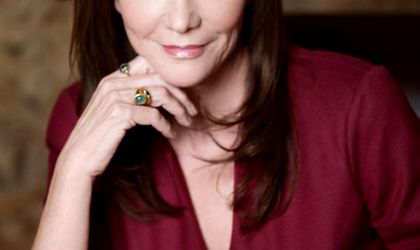 What do Charlize Theron, Brad Pitt, Sylvester Stallone, Terence Howard, James Franco, Hally Berry, Jared Leto and many others have in common? Hollywood, you'll say. But there is more than that: one of the great masters of dealing with the power of an actor, Ivana Chubbuck. She developed a cutting edge and globally adopted acting technique which has her name, she wrote a bestseller for all those who want to succeed in acting career and currently she organizes a workshop in Romania to present some of her magic on our local scene.
"I finally went to a class in Los Angeles with this wonderful teacher, Ivana Chubbuck. Ivana taught me how to take my emotions and take everything that has happened in my life. and use it to make me an effective actor. The stakes have to be high – so it was really an interesting place Jor me to stand on my feet and Jail on my Jace many times." – Quote from Charlize Theron on "Inside The Actor's Studio".
You changed your career from an actor to an acting coach. If you were to take it all over again, would you do the same?
Yes, as I found it was more satisfying spiritually and emotionally to be an educator than to be the celebrated one. It inspires me to be the one that motivates.
Which is the most important lesson that Ivana, the actor, has taught Ivana, the acting couch?
Fear of judgement is something that will always be destructive in nature. To be proactive without thought of what others think. Please yourself, respect yourself, be proud of your accomplishments and take risks.
Your book underlines 12 steps to become better in your acting. Since releasing the book, have you discovered other steps that can improve your acting?
The 13th step, reread the first 12 steps.  Make it the Chubbuck Technique system a habit.
"She just began tobreak me down, and I went, 'Wow."Because it's almost as if certainactinghabits become calcifed and. before you know it, you're like a piano player with one finger. You keep hitting that same note over andover again. She rightaway got intoreally subliminal, exploratory personal chambers that I wantedto keepclosed. Like my son'sdeath. I said, 1 reallydont want togothere, I reallydon 1 want totalkabout that. She said, 'Well, that's what needs to come out. You need to express that. This is what this character is dealing with, that kindoJ loss, that kindoJgrief" – Quote from Sylvester Stallone on NPR
In an interview, you said that your method isn't intense, but rather cathartic. How do you define this catharsis?
Not exploring one's pain by hiding from it, negating it, denying it only causes that pain to fester within your system.  That festering ultimately causes even more profound pain.  If you use your issues, pain, insecurities and fears as fuel to energize your ability to overcome and win – then it's creating an emotional and spiritually prosperous end result.  Emotional and spiritual prosperity – equals catharsis.  It allows also a sense of comfort as well.
For any actor in the world, is Hollywood the place to be? Why?
No, be successful in your community.  Make doing the work something that is inspiring and gives you a sense of pride and satisfaction.  It doesn't matter your geographical location to feel those things.
" … playing Etta Jamesfor a movie called, 'Cadillac Records'. She was a heroin addict. which I felt would be difficult for me because I've never doneany kind of drugs.But Ivanahasan exercise that she's developedthat makes youfeel likeyou'reactually onheroin. We worked on one of the scenes that Ettahas to be verystoned onheroin. and notonly did I feelorganicallyhigh. but it brought upemotions that made sensetosomeone who needed totake a drugsuchas this – something toeliminateemotional pain. My emotions were very raw. yet I felthigh. It wasa uniqueexperience, for sure." – Quote from Beyonce
You've been named "the people whisperers". Do you agree with the description?
You can call me whatever you want, as long as I am effective in creating change, evolvement and empowerment with the people that I come to know and work with.
Some articles underlines your capacity of reading people, all their utterances and body language, in their finest unwitting detail. If we could share a person's talent into percentages, how much will it be the body language? Also, which are the other ingredients (and their proportions) for a good actor?
Acting is recreating real human behavior.  Human beings are very layered, and complex animals.  So it take a lot of exploration of behaviors, to how one speaks, the verbiage that they use as well as life choices the character makes.  Then an actor must personalize them.  Bottom line, education is key, study is essential, and the practice that study brings – to be great.  Taking intensive classes, like mine will help with the understanding as well as making exponentially faster results to find success.  Both from a point of view of an actor/writer/director but also as a human being.
Is there such thing like good actor / bad actor?
No, the difference is that: there's hard working/studied actors and there's lazy actors.
Why a person outside the film industry should attend your masterclass?
Because the same reality of being able to be more effective in communication as a character, allows better understanding of how to be more effective communicator in your life.  And great communicators are the most essential element in success – whether in love, or in business.
The classes will take place in Bucharest this spring and are organized by Magnolia Acting Studio. The trainer will be David Lipper, following Ivana Chubbuck's visit. The technique is addressed to all kind of professionals, not necessarily actors.