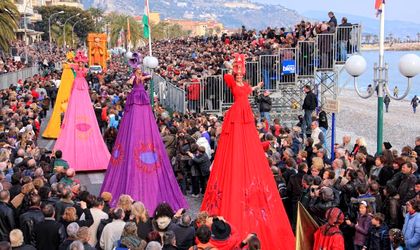 More than 200 artists from several international theatre companies will participate at the fifth edition of the B-FIT IN THE STREET International Street Theatre Festival that will take place between May 30 – June 2. This fifth edition of the festival invites spectators to a colorful universe where artists will offer emotions and reflections as well as a different kind of interaction with the public through space, rhythm and reception.
B-FIT in the Street will be opened with the most important Romanian band – Xtreme Project, with guitarist Mirel Cumpănaş – who will offer an impressive show of acrobatics on the façade of BCR building, situated in the University Square and will be accompanied by Silvestri Orchestra, conducted by Tiberiu Soare.
The most anticipated productions of this year are the troops of Compagnie Off (France), Theater Tol (Belgium), Compagnie des Quidams (France) and Sam Shine (The Netherlands). Their performances will transform areas of the cityinto enchanting landscapes, bathed in light and colors, capturing the novelty of the artistic vision.
Representations will be held in several locations through Bucharest: Constitutiei Square, Universitatii Square, George Enescu Square, Cismigiu Park and Old City Center. More details about the program can be seen here.
Oana Vasiliu