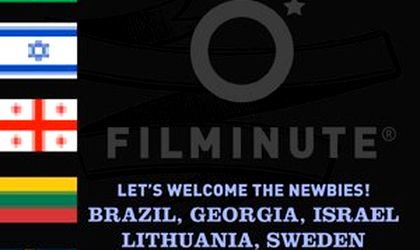 The seventh edition of the FILMINUTE festival is now on and showcases the world's 25 best one-minute films. This year's festival features a broad range of expertly crafted one-minute films from 15 countries. The festival presents comedy, horror, heartbreak and drama; fiction, animation and documentary. These films resonate long after the 60 seconds are up. The public can watch, rate and comment on all 25 films. The festival highlights original and resourceful storytelling and the importance of social media.
The 15 countries represented at Filminute 2012 areArgentina,Belgium (2 films), Brazil, Canada, France, Georgia, Germany, Israel, Lithuania, Netherlands (2 films), Russian Federation (2 films), Sweden, Turkey, UK(5 films),  and USA (4 films). Five countries have made the shortlist for the first time: Brazil, Georgia, Israel, Lithuania, and Sweden.
Of the 25 films in competition, 6 are animations, and 2 are documentaries. Filminute co-founder and Head of Jury John Ketchum has once again convened an international, experienced, contemporary, and witty jury: Sundance & Sarajevo award-winning Romanian film director Radu Jude; Indian "Ad Guru" and award-winning film lyricist Prasoon Joshi; FIPRESCI Vice President & Hungarian film critic György Kárpáti; Shut Up! Cartoons producer and long-time Walt Disney Television Animation Senior Vice-President Lenora Hume; and award-winning writer and superstar Twitter storyteller Arjun Basu.
The "Best Filminute" prize and five commendations are awarded by Filminute's jury. The public at large is invited to view, share, comment upon and rate all 25 films. Each film fan is also entitled to a single vote to put toward the film they feel is most deserving of Filminute's People's Choice award.
The seventh edition of the festival also features a more accessible website and an expanded pool of global media partners who will all be choosing their top picks from the festival to screen for their audiences.
Every year, throughout the month of September, Filminute presents an extraordinary array of 25 films online for festival-goers around the world to enjoy and discuss. The Filminute winners and awards will be announced on October 9.
More information and full details are available at http://www.filminute.com/. You may follow Filminute on Twitter at http://twitter.com/filminute. On Facebook, follow via http://www.facebook.com/filminute.
LIST OF THE 25 FILMS SHORTLISTED AT FILMINUTE 2012
Argentina
CIUDAD HELSING, Gustavo Cordero
URL http://www.filminute.com/listing.php?type=1&edition=2012&film=171
Belgium
HOL VS. RUS, Piet Sonck
URL http://www.filminute.com/listing.php?type=1&edition=2012&film=191
OEHOE, Ben Gijsemans
URL http://www.filminute.com/listing.php?type=1&edition=2012&film=177
Brazil
A LITTLE UNCOMFORTABLE, Weyner Tristao
URL http://www.filminute.com/listing.php?type=1&edition=2012&film=166
Canada
THE KEY, Randy Kelly
URL http://www.filminute.com/listing.php?type=1&edition=2012&film=183
France
COLLOQUE SENTIMENTAL, Louise & Jeanne Traon
URL http://www.filminute.com/listing.php?type=1&edition=2012&film=172
Georgia
LADY I, Tamta Garbrichidze
URL http://www.filminute.com/listing.php?type=1&edition=2012&film=174
Germany
INDIAN MYSTERY, Christian Fischer
URL http://www.filminute.com/listing.php?type=1&edition=2012&film=193
Israel
SCHNITZELS, Tal Haring
URL http://www.filminute.com/listing.php?type=1&edition=2012&film=179
Lithuania
CUT!, Jonas Velutis
URL http://www.filminute.com/listing.php?type=1&edition=2012&film=173
Netherlands
MACROMOUSE, Nicolas Stamboulopoulos
URL http://www.filminute.com/listing.php?type=1&edition=2012&film=192
SARINA, Tara Fallaux & Stijn Ghijsen
URL http://www.filminute.com/listing.php?type=1&edition=2012&film=178
Russia
BROTHERS, Anton Mironovich
URL http://www.filminute.com/listing.php?type=1&edition=2012&film=168
TAKE A REST!, Natalia Mirzoyan
URL http://www.filminute.com/listing.php?type=1&edition=2012&film=187
Sweden
BARGIRL, Renzo & Hanna Anerod
URL http://www.filminute.com/listing.php?type=1&edition=2012&film=167
Turkey
LIGHT, Munir Dogan
URL http://www.filminute.com/listing.php?type=1&edition=2012&film=175
UK
A HERO'S TALE, Nick Black
URL http://www.filminute.com/listing.php?type=1&edition=2012&film=184
CANDY CRIME, Ben Jacobson
URL http://www.filminute.com/listing.php?type=1&edition=2012&film=169
CHOP CHOP, Ant Blades
URL http://www.filminute.com/listing.php?type=1&edition=2012&film=170
FLIP BOOK, Richard Dunford
URL http://www.filminute.com/listing.php?type=1&edition=2012&film=190
WILDEBEEST, Ant Blades
URL http://www.filminute.com/listing.php?type=1&edition=2012&film=182
USA
FOLKLORE, Charles Yeager
URL http://www.filminute.com/listing.php?type=1&edition=2012&film=185
M|W 9|11, James Kelly
URL http://www.filminute.com/listing.php?type=1&edition=2012&film=176
STILL HERE, Rafael Morais & Vijessna Ferkic
URL http://www.filminute.com/listing.php?type=1&edition=2012&film=180
THE END, Michael Darling
URL http://www.filminute.com/listing.php?type=1&edition=2012&film=181
Oana Vasiliu