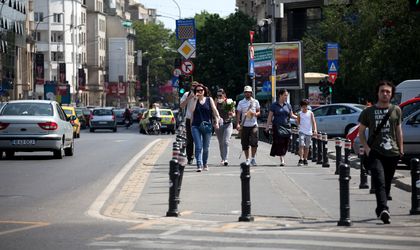 This weekend, Bucharest feels the vibe of live music from over 100 bands that will entertain the public at B'estfest Summer Camp. Check out bellow several highlights from this weekend's arts and culture program here.
B'estfest
July 6-8
This year's B'estfest festival has no fewer than seven different stages on which more than 100 national and international bands will perform for the public by Pasarea Lake, in Tunari, near Bucharest. Garbage, Pulp, Royksopp, Selah Sue, Caro Emerald, B.U.G. Mafia, The Qemists, Skindred, Milow, Booka Shade and many others will entertain their fans over 72 hours of live music. The event will also feature an open-air cinema with international movies, an amusement park and the traditional food court.
Ice Age 4: Continental Drift
Opens July 6
Manny, Diego and Sid explore a totally new world, using an iceberg as a ship, after their continent is set adrift. In this new adventure, they encounter sea creatures and battle pirates, with all kinds of comic adventures ensuing.
Director: Steve Martino, Mike Thurmeier
Starring: Ray Romano, Denis Leary, John Leguizamo
On at: Movieplex Cinema Plaza, Hollywood Multiplex, Grand Cinema Digiplex, Glendale Studio, Cinema City Cotroceni, Cinema City Sun Plaza, Hollywood Multiplex, CinemaPRO.
Sergiu Celibidache Festival
May 3-July 7, from 20.00
The Romanian Atheneum
The event celebrates 100 years since the birth of Sergiu Celibidache, while this year is also the UNESCO anniversary of the Romanian conductor. The last week of the festival consists of the following events:
July 6 – Romanian Youth Orchestra – Peter Sadlo Percussion
July 7 – Closing Concert – Celibidache premiere – Haz de necaz
Glass and painting exhibition
July 3, from 18.00
Constantin Brancusi Room, Parliament House
Serbian Ratko Lalic and Romanian Mihai Topescu put on an incredible glass and painting exhibition re-interpreting Constantin Brancusi's art. This event will feature books on the life and philosophy of the iconic Romanian sculptor.
Oana VASILIU