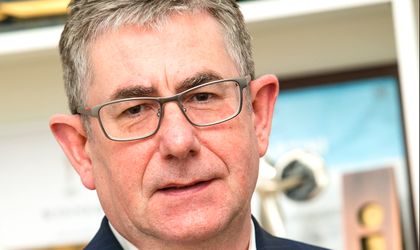 Managing Director of the IAA and advertising entrepreneur, Michael Lee, is celebrating 25 years of activity with his agency this year. Given his extensive sales experience in print media, BR picked his brain about the new trends for 2016, native advertising and the future of print.
Business Review previously published a part of this extensive interview, which can be read here.
Romanita Oprea
What opinion do you have about native advertising?
With native advertising, media companies are looking at different ways of providing content to their audiences. In the "old days," print media would mean advertising or sponsored sections or advertorials or how you want to call them. The editorial content would be commissioned as a direct result of the native advertising that was generated, so 8 pages of advertising revenue may be 8 pages of editorial. It's not exactly that formula, but pretty much around there. What fascinates me is that native advertising is more or less the same thing, but it doesn't have the stigma attached to it that sponsored sections and advertising sections had.
I think that native advertising where the editorial is created by professional people, in an authentic matter and is placed in, what people may regard as an authentic editorial environment, like The Wall Street Journal or The New York Times, it doesn't bother the consumers. If the information is of interest, I think that consumers overlook the fact that there was engineering behind it and the content had been actually paid for by the company.
I think it's revolutionizing the print and the media companies that have been successfully making the transition to the digital world and that continue to progress and develop. The growth of native advertising is helping that transition dramatically.
While not all traditional media is reporting declines in readership and circulation, and we may not see that in some categories and some parts in the world, the decline is there. I've spent a lot of years in print media and I can say that, in my opinion, it's going in a downhill direction, for the most part.
What segment of print media will still be successful? Is it a certain niche or the business magazines, the luxury ones? What do you think will continue to thrive and why?
I think that niche publications still have a future for sure. It all comes down to the business model and to the equilibrium between the target audience and the advertising audience. I've seen a lot of examples in print where it's difficult to place different magazines in the printing environment, as they are actually part of a bigger system. They may have a print product, but they also have a very strong digital environment, as well as conferences and awards. There may be all kinds of extensions to their business model that enables them to be successful. And, I think, at the core of everything is the content.  They are also able to generate and provide other extensions to their business model, because the heart of it all is the editorial information.
Also, I think that in many parts of the world, the lifestyle section (the women's fashion section) is very hot, because often people say that fashion advertising is almost like editorial and people want to look at that.
There is no one-size-fits-all in this category, but for the companies that have been able to really integrate revenue-generating extensions to their core business, it should certainly meet with more positive growth going forward.
In your opinion, what are the 2016 trends in advertising?
The continuing transition of advertising into a more targeted focus is clearly on everybody's agenda. There is still a lot to be done in that area, in measurability, in return on investment. Most advertisers want to have continuous efficiency and, in that regard, targeting is part of it, but also efficiency in terms of where their budgets are going and how they are being spent. We have seen in the second part of 2015, USD 30 billion worth of accounts up for review and a lot of the commentary was regarding the bad efficiency. Big clients in particular are looking to have better efficiency.
I also think that the continuous integration of technology will be important, which includes such things as automation in media buying, programmatic. There are a number of big media agencies that have set targets for 2017-2018 that the bulk of their media buying will be programmatic.
We will continue to see consolidation. There's been a lot of consolidation in the last 18 months in the big categories and I think that this is a trend that will continue for certain. We are all seeing the idea of the full service agency. While creative was separated from media for many years, we see now that companies are starting to go back to the way they used to work before – together, under one roof, particularly in the digital area where they need to stay side by side, to be in the same room. You can't compartmentalize the activities like that any longer.
I think the media industry will continue to be challenged in 2016. Some categories are relatively stable: outdoor (in most places), TV (even growing in some places), the digital and the mobile. The challenge is still in mobile to crack the creative challenge of the smaller screen as well as the technological side of the download speed and so on.
Do you consider that there are still big differences between American and European advertising? Besides the humor aspect.  
I am an Englishman living in America and I have always found the American advertising to be a little boring. There is not a lot of humor there. And when I switch on the television in the UK and watch TV commercials, they always attract my attention a lot more.
I believe it depends on the category, as some brands have great visual legacy and then we have, what in the States are called "category busters", where new companies come in big categories. Not only advertisers, but companies like Uber or airbnb, can really make an impact.
An interesting advertising focal point in the USA is the Super Bowl, when a lot of people say that many are tuning in to watch the commercials rather than football. There is this massive tweeting during the whole event about what people think about these ads.  And the next day, many newspapers will run articles about who won the Super Bowl in terms of advertising, not football.
There are always cultural differences that provide the different trends and features, but I think that a lot of advertising is still born out of insights, the big idea, will it stand the test of time and finally, if it still checks all the boxes and produces results. Most companies seek results with their advertising campaigns these days, however they look to the client. For example, in Romania, IAA has the Effie awards, and we have just launched them in the UK in May. The response we had from the ad agencies in terms of submissions has been very encouraging. The response we had from clients that are part of the judging has also been very encouraging. I think the reason is because, at the end of the day, effectiveness rules.