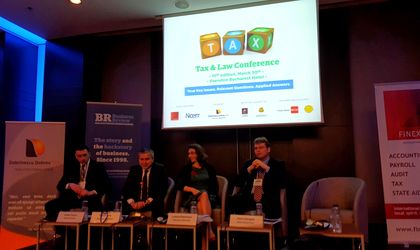 Tax burden on work contracts in Romania is too large and the basis for calculation of contributions (taxes) must be extended so that the total burden is related to the value of income and not the way the income is made, said Gabriel Biris, secretary of state for the Ministry of Public Finances (MFP) during the fifteenth edition of the Tax&Law Conference organised by the Business Review magazine on March 30.
This too large burden "have pushed the taxable amount around the right way which would be the work contract," added Gabriel Biris. "This leads to taking risks, sometimes can even lead to accusations of tax evasion," he further explained. In his opinion, the approach should be "an effective  limiting of the basis for calculation of contributions to as reasonable as possible a level together with extending the basis so that the total burden is not in terms of how we win but rather how much we win."
The current focus on the way earnings are made rather than the amount means that "we create different categories of citizens: winners and losers," pointed out Biris.
Biris also discussed how we are currently seeing a inverse phenomenon compared to 2007, when reducing the sphere of use for micro-enterprises led to an explosion of PFA/PFI (legal entities). "For income from independent activities we increased the tax burden with the individual contribution of 10.5 percent limited to 5 percent. The surprising thing is that before it was 26 percent and no one said it was too high. Why? Because the basis was very small," further added Biris.
Andreea Tint