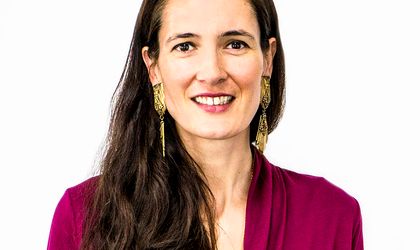 French Clotilde Armand, who is the manager of engineering giant Egis in Romania and Bulgaria, is running for mayor in the first district of Bucharest.
She will be the candidate of the Union for Saving Bucharest (USB), the party set up by Nicusor Dan, who is running for the second time for mayor of Bucharest.
The executive said she has chosen the first district because it is where she is living and working and also because her children go to school there.
Armand says that this district was managed in the past by mayors that were politicians "without consistency and personality", adding that this has to change.
"I am a manager and I a displeased by the poor management that strikes you when you deal with public authorities. I have managed organizations of 2,000 people that I made more efficient, I managed budgets of EUR 1 billion, and today I am the general manager of a group of companies providing engineering/design services that hires 200 engineers. The company was going badly when I took over in 2013 and now we have recovered," said the executive in a blog post, adding she is ready to give up her private sector job and salary to manage Bucharest.
The candidate explained on her blog that she has known Nicusor Dan for 20 years and that her husband, Romanian mathematician Sergiu Moroianu, has worked with Dan on several academic and non-profit initiatives.
Armand got her Romanian citizenship in 2015. She is a graduate of the Massachusetts Institute of Technology and Ecole Centrale in Paris. According to her LinkedIn profile, she has been over 18 years of experience in management and consulting for American and European industrial companies.
The District 1 town hall has been lead since 2004 by liberal politician Andrei Chiliman, who is currently prosecuted for corruption. The National Anticorruption Directorate accused Chiliman of being part of a criminal group that collected "commissions" from companies looking to get public contracts.
The local elections will take place on June 5.
Ovidiu Posirca