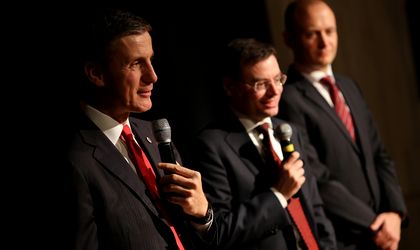 Telecom operator Vodafone Romania announced today in a press conference that it will be the first operator in Romania to guarantee an optimum satisfaction level for all its users, whether prepay or post pay individual users or business users.
Starting February 16, Vodafone users are urged to offer feedback about their experience with the Vodafone services, via the MyVodafone application. The company pledged that each user who offers relevant feedback will receive one day of free of charge internet per month. The bonus will be activated after up to 48 hours after filling in the application form and can be used for 24 hours.
The telecom operator also announced that it will offer two months of free data traffic at the Bucharest subway between February 8- March 31, company representatives announced today.
"We created in Bucharest the largest free internet zone in Europe by opening our network in the Bucharest subway. This is something that has never been done before not only in Romania but also in Europe," according to Andrea Rossini, director, consumer business unit, Vodafone Romania.
There are at the moment approximately 800,000 subway users in Bucharest. Vodafone officials did not specify the exact Vodafone share in the total number, however, they said it is "substantial."
Bucharest subway users can browse through the Vodafone Digital Library, watch films or listen to music through the HBO Go or Zonga applications. There is also the option to buy online from Mega Image though the platform Emag Supermarket Online. There will also be a Digital Assistant for Bucharest Metro Users.
The telecom operator also announced that during Valentine's weekend, February 13-14, it will be offering free internet access to any telecom users who will require a SIM card at any Vodafone store or Vodafone partner store network starting February 8.
In parallel, the operator also announced it will be implementing a new communication platform under the message: "You have the power to succeed on your path," which will be deployed in print, online TV and outdoor.
According to Vodafone data, the share of smartphone sales in December 2015 was 78 percent, and 70 percent of the smartphones that were sold by the company were 4G compatible.  Smartphone penetration grew by 8.4 percent between October and December.
Data usage increased by 129.2 percent between October and December 2015.
The enterprise M2M solutions has grown by 20 percent year-on-year.
Otilia Haraga