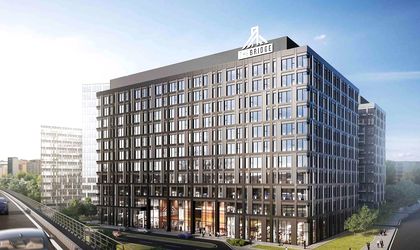 Real estate developer Forte Partners has inaugurated the first phase of The Bridge office project located in the Grozavesti-Basarab area in center-western Bucharest.
The first building has a total leasable area of 36,871 square meters and has IBM and BCR among its largest tenants.
"Our objective was to deliver The Bridge on time and by keeping costs at bay – something that we successfully achieved," said Geo Margescu, founder & CEO of Forte Partners, during the launch event.
"Next year we will probably start other buildings," added Margescu who went on to say that the overall market real estate market in Romania is more "mature". The CEO said that Forte Partners aims to replicate in the residential segment the success from the office segment.
The first phase of the project was financed by UniCredit Bank, while Bog'Art was the main construction contractor.
Elke Meier, the CFO of BCR, said that the lender has relocated 1,400 people in The Bridge, which will serve as its HQ. She explained that the lender had previously tried three times its main offices that were spread in 18 buildings.
Meanwhile, the second phase of The Bridge will have a total leasable area of 20,191 sqm.
Up to now, Forte Partners has delivered office project Stefan cel Mare Building and three boutique apartment buildings in central Bucharest. At present, the developer is working on a large residential project in Aviatiei area.