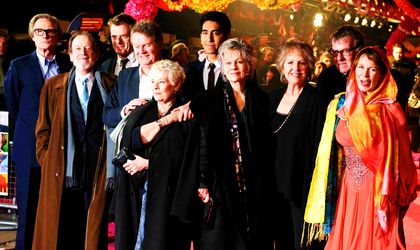 It sucks, getting old. Hairs sprout out of your ears, it's a struggle just to stand up and technology is unfathomable. But no matter your age, if you have retained an appetite for life, you can still savor the pleasures that living affords. Such is the lesson awaiting seven elderly Brits – a high court judge with a secret (Tom Wilkinson), an impoverished widow (Judi Dench), a ghastly social climber and her long-suffering husband (Penelope Wilton and Bill Nighy), a racist Cockney (Maggie Smith), a well-heeled man eater (Celia Imrie) and an incorrigible roué (Ronald Pickup) – who pack their bags for a new life in India.
Our graying crew pitches up in Jaipur to find that the promised luxury of their accommodation has been rather over-fabled, a la Carry On Abroad. But the hapless manager (an overacting Dev Patel) persuades them all to stay on, and our seven sexa- and septuagenarians set about adjusting to the subcontinent. The group divides neatly into the sympathetic (are friendly to Indians, try the food, visit temples) and the unsympathetic (are rude to Indians, insist on British food, sulk back at the hotel). The characters' adventures are played variously for tears (the judge's search for someone from his past), laughs (the sexploits of the two amorous singletons) and warmth (the hard-up widow's entry into the local workforce). Meanwhile a subplot involving the manager's modern girlfriend and traditional overbearing mother develops predictably.
The Best Exotic Marigold Hotel is as sweet and gloopy as mango chutney and the various arcs are obvious from about ten minutes in. Some of the characters are one-dimensional, and the film is guilty of presenting a rather patronizing, stereotypical image of India and its people. But a stellar cast and very funny script full of laugh-out-loud lines turn what could have been a trite little film into a pleasure. Wilkinson's troubled judge and Smith's sardonic bigot are probably the highlights, but all the veteran actors deliver enjoyable turns.
You don't have to be in your dotage to sympathize with the protagonists' frustrations with the modern world (estate agents and call centers are among the admittedly easy targets): "Is wireless the same as Wi-Fi, and what do either of these have to do with broadband?" Dench's baffled widow asks an unhelpful operator. The regrets, wistful nostalgia, defeats, losses, looming mortality, loneliness and hopes of old age await us all, and it's refreshing to see a film where the elderly are the focus. Like the eponymous establishment, The Best Exotic Marigold Hotel has a raft of flaws, but its heart is bang in the right place.
Debbie Stowe
Director:  John Madden
Starring:  Judi Dench, Bill Nighy, Penelope Wilton, Maggie Smith, Tom Wilkinson, Ronald Pickup, Celia Imrie, Dev Patel
On at: Cinema Union