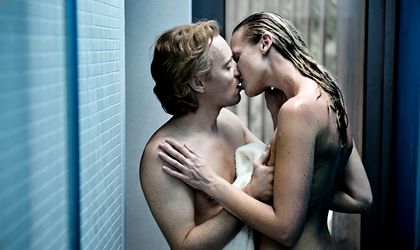 Roger Brown is living the dream. He has a well paid job as a corporate recruiter, a fancy minimalist show home, a blonde trophy wife and an accommodating mistress. He's not very tall, but that's the only black spot on the horizon.
Or so it appears. Despite his highly remunerated position, Roger can't actually afford his house (mainly because he's bankrolling bored Trophy Wife's new art gallery). To fund his pretentious lifestyle he's had to adopt a lucrative sideline as an art thief, using his day job to elicit helpful information from wealthy executives whom he then robs while they're out at interviews he has arranged for them. This works a treat, until one day he picks the wrong victim.
Such is the premise of Headhunters, a Scandinavian thriller that's as clean, efficient and functional as a Billy bookcase. From the moment anti-hero Roger (Aksel Hennie) introduces us, via voiceover, to his dual life, through to the conclusion, what plays out is a highly entertaining thriller, that's high on tension and spare on gimmicks.
Let's call a spade a spade: Roger is a total jerk. But once he is pitted against Clas Greve (Nikolaj Coster-Waldau), an ex-mercenary turned top executive who also happens to be tall, athletic and ridiculously handsome, our distaste for his dishonesty and shallow outlook turns to empathy. Roger is quickly plunged into a Hitchcockian nightmare (the fact he shares his name with Cary Grant's similarly superficial character in North by Northwest is surely no accident?), with the villainous ubermensch Greve and plodding local police both bearing down on him.
Scandinavia is hot right now. (Not literally – it's still less than 20 degrees in Oslo, even in late June.) There's Stieg Larsson, whose best-selling books have been made into films, and Emmy-nominated Danish crime drama The Killing – if it's Nordic and people are being murdered, audiences are lapping it up.
Headhunters perfectly exemplifies why. It's taut, neat and sparing. There is clearly a Hollywood influence and a couple of plot points push the boundaries of plausibility just that bit too far, but overall the movie is refreshing in its approach and catches the Scandi cool vibe. There's plenty of offbeat Nordic humor in between the tense action sequences. And with its pared down European aesthetics and compromised protagonist, Bourne comparisons may spring to mind.
The film is also timely: the lingering effects of the financial crisis mean that we still love to hate corporate narcissists – Tom Wolfe's "Masters of the Universe" – which makes it extra fun watching Roger's ostensibly perfect life (and hair) crumble.
Director: Morten Tyldum
Starring: Aksel Hennie, Synnove Macody Lund, Nikolaj Coster-Waldau
On at: Cinema City Cotroceni, Grand Cinema Digiplex Baneasa, Hollywood Multiplex
DEBBIE STOWE