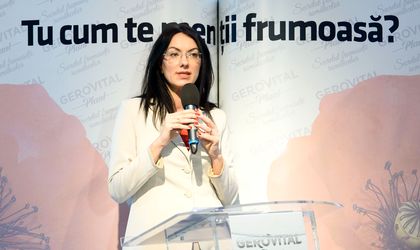 Farmec, the biggest Romanian cosmetics producer, launched today a new line of products – Gerovital Plant – that is based on organic oil from poppy flowers. The official launch took place in the setting of a special exposition that brought an homage to the Romanian beauty, so admired and appreciated around the world.
"The Romanian women are famous around the world for their beauty and we are the ones that love them the most – the ones that see them every day, that know their expressions, their joys and their sadness. The new Gerovital Plant line is especially created in order to maintain the women's beauty due to its beneficial compounds that actively take action along the skin leaving it smoothly and hydrated. The secret lays in the organic oil obtained from the poppy flowers from the Papaver rhoeas petals, a plant upon which have never been used pesticides, herbicides or mineral fertilizers. The new line of products will benefit from an integrated communicational campaign and we are sure that it will record very good financial results," said Ioana Borza, marketing manager Farmec.
The Gerovital Plant story started in 1985. Innovation lays at the base of the line's longevity, the products and the active principals keeping the pace with the latest discoveries in the cosmetics' world.
Romanita Oprea