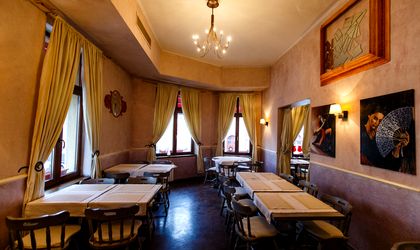 Salsa Caliente, No. 1 Iulia Hasdeu. 021 211 2030
Come with me dear readers whilst I walk you through creating a dish of culinary fraud. All the ingredients are available to every dishonest restaurant in town, but Caliente uses them all. So we start with a bowl full of DECEPTION. Google or Facebook the House and you will find a logo of fabulous shellfish. This picture is designed to lure you into a trap to visit them, but none of the shellfish exist when you get there.
Next, add a big portion of LIES, for they profess to be a Spanish chophouse, but as you will see, they are nothing more than a Romanian joint with 162 dishes all sexed up with Spanish names, such as 'olivas rellenas,' a humble olive stuffed with an anchovy, and 'tapa pimiento,' the normal Romanian dish of roasted pepper with olive oil. Stir the ingredients of lies and deception together, and add a huge portion of STUPIDITY. They call themselves a Tapas Bar. But that does not exist in real Spain, where they have bars which sell Tapas.  A big difference!  Worse still, the House cannot grasp the fundamental culture surrounding Tapas, which is: Tapas is a tiny dish cooked by the bar to eat, or not to eat, in order to accompany the customer's wine or beer.
Thereafter, the fun-loving Spanish customer goes on a pub crawl, eating Tapas in every bar to help him from getting slaughtered on Spain's fabulous bar drinks.  But there are no other bars selling Tapas near Caliente, so the cultural point is lost. But in Spain, typical Tapas dishes include fresh white anchovies, fresh octopus drowning in a sea of olive oil and garlic, fresh tender (not rubber) calamari swimming happily in white wine, and of course, Spain's most loved national fish, Hake. But did we get those? Oh, give me a break, not a chance!
Finally, to complete our fraud dish, season it well with a huge amount of ARROGANCE, because the dumb House assumes that we customers are gullible fools who cannot see through their charade!
At this point, please do not leave this page, as I am about to reveal a comedy of errors which beggar belief.
OK, Let's eat. It's not expensive, and the décor fits accordingly. I flipped the menu to Blondie, who gasped in amazement. "Where are the Spanish ingredients? I can buy this lot in Mega or Metro," she wailed. For once in her life, she was right. And the House had come to the same conclusion for all the ingredients were not sourced from Spain, but from a local Bucharest store. I told her not to bother her fluffy girlie head with such complexities and to wait and see if we got a pleasant surprise when our dishes arrived. Yes, it was a surprise, but not a pleasant one!
Each dish on the menu had a warning of the wait time, from 20-45 minutes. I had no problem with this, as a chef myself, I could picture in my mind the House chef painstakingly mastering his art to perfection over 45 minutes. But no, I was wrong. More on that later.
So off to a 'mushlitos con salsa Rioja.' That means breaded crab lumps, (30 mins, my time 4 mins.) We could not believe our eyes when our dish arrived, Blondie shrieked "you gave me this exact thing last week at your house."  And she was right. For I had purchased the same dish from the freezer cabinet in Obor. All the house had done was to heat it up, and slap 6 crab lumps on my plate. Hey, is there really a 'chef' in this House? Nah – read on because it gets worse.
Blondie squealed she wanted the only Spanish thing on the menu, 'chicken paella'. (Correct at 35 minutes, provided it was really cooked freshly which I doubted.) I remonstrated that it would be a disaster, but you can't argue with a woman bent on gastronomic destruction, so I smiled as her 'paella' arrived as a greasy stooge, which would be instantly recognizable in a Chinese restaurant as 'chicken fried rice'. It was devoid of everything that makes a paella, from saffron, garlic, onion, seasoning, etc. I had a nasty suspicion that this was straight out of a supermarket chiller bag. But it was to get worse.
Blondie shouted at me to get out, but I couldn't leave my seat, because I was laughing too much at their ineptitude. So away we went to a chicken 'gorgonzola with oriental rice' (35 mins. me- 15 mins.) I lived as a child in Hong Kong but I never heard of 'oriental rice.' It came as rice with chopped vegetables. Thank you House, now I am so much wiser!!!
The gorgonzola sauce was nothing more than a roux made from flour and milk, devoid of any gorgonzola whatsoever. We passed on fried shrimps (35 mins- me 3 mins) and also on their prawn cocktail, which I suspected they would probably serve to us as a drink in the bar. We also passed on stuffed calamari (35 mins) which, although they did not state the stuffing, I am sure it would have been stuffed with bullshit.
Away now to 'ensalada griega,' a green salad with Romanian feta, and to make it Spanish, they threw in an olive. And now another LIE. I ordered clams (vongole) in white wine sauce (45 mins. Me 4 mins.) We could not believe our eyes when we received a steaming hot bowl of mussels (midi) and the white wine sauce was devoid of any garlic or onion which are essential in this dish. Hell, it was a failed version of 'moules mariniere.' Very Spanish! Our charming waiter insisted that the midi were really vongole but I knew the midi was from a Metro chiller cabinet.
By now, the cataracts of gastronomic ignorance were falling from my eyes, as I realized these absurd waiting times were not for the so-called 'chef' to complete his art, but rather from the man in the kitchen to simply DE FREEZE THE PRODUCT FROM METRO, before heating it and throwing it on your table. They even confirmed that all the seafood was frozen, and nothing was fresh.
May I assure you dear readers that if this restaurant were in Spain, the passionate, hot tempered Spaniards would cause a riot, and walk out of the restaurant in disgust leaving the hapless waiter wearing the rejected dishes.
In Spanish history, their most reviled character was the evil priest, Torquemada who murdered and raped his way through Spain during the Inquisition. He was such a sadist that the English word 'torture' derives from his name. If he were alive today, I would rather he crucify me and impale me on a spike rather than have to eat in this place again.
I think you've gotten the point.
Review by Michael Barclay – mab.media@dnt.ro