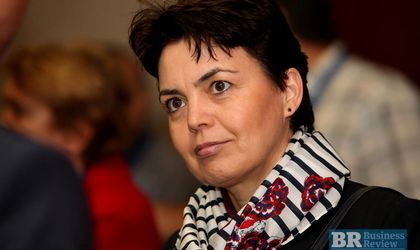 Romania's economic growth pattern is showing imbalances and does not work in the benefit of its citizens, the head of the European Commission office in Romania, Angela Filote, stated during a press conference launching Romania's country report.
Romania had the second largest economic growth in the EU, but it also appears in EU's top for poverty, the EC representative underlined, a model which the Commission does not encourage.
"We can all see the economic growth recorded by Romania in recent years. We are dealing with a paradox: Romania tops the growth in the European Union, but at the same time is in the top for poverty. This means that the growth pattern is not working for the citizens. The European Commission wants to ensure that the evolution of the Romanian economy is balanced, with the model of competitiveness based on quality and innovation rather than low labor costs," Filote stated.
She pointed out that a key element is in restarting investments, showing that Romania "still looks good" when it comes to the criteria for the budget deficit, but the European Commission is concerned about the looming trend, as economic discipline was based on cutting costs and lack of investment rather than increasing revenue.
"We want to see a strong recovery in investment in Romania. We hope in the future measures that have a significant fiscal impact will not be taken outside the annual budget programming, as it puts pressure on the budget," the EC representative added.
The head of the EC office in Romania reminded that there is the Junker investment plan, of which Romania is still not a part of.
The country report was published by the EC on February 26 and mentions both progress made by Romania and warning signs concerning trends apparent at country level. While conclusions on the public administration, business environment, labor market and social support to vulnerable groups are not so positive, the EC also stated that our country's macroeconomic situation and net investment position have improved.
The report should be followed by a response from the government of Romania, through a program of national reform, a convergence program. After analyzing these documents, the EC is set to make further recommendations to the country.
Natalia Martian