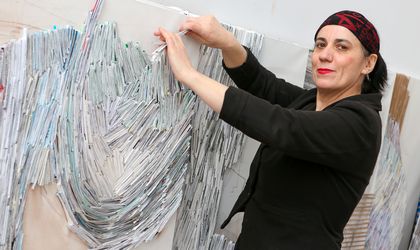 The Romanian contemporary art scene seems to carefully reveal excellent local artists from time to time. BR went to meet with artist Florica Prevenda in her studio, a one-of-a-kind place where everything is in perfect order, from the creation spots to the small and friendly space where the artist receives her guests. Even from an early stage in her career, she directed her efforts towards the international art scene, gathering people to see her art in Brussels, Milan and New York, among other locations. Albeit it's rather discrete here in Romania, she has never forsaken her local presence.
Oana Vasiliu
How and when did you start doing art?
I started in kindergarten, as a form of play, like most children, and I was discovered by my teacher who told my mother that my paintings were beautiful. Since then, I started to become aware of the fact that I had a gift for this art. Another strong memory dates from the first grade, when the first mark I got in school was in drawing class, a 10; the teacher showed the class my painting, a vase with flowers, and publicly admired it.
When was your first exhibition? And your first international exhibition?
I graduated in 1984, and my own exhibition took place almost six year later because I was very demanding with myself and my work. I really wanted to wait for all the information I gathered during my studies to settle. After 1990, the first thing I wanted really badly was to go and exhibit outside of Romania, for obvious reasons. Moreover, it was a curiosity to both see what was happening at the same time in the international art world as well as to visit the museums and galleries. In 1991, I was invited by some colleagues from Germany to a symposium. After that, it was a visit to France, to Belfort, and my friends from there took me to Switzerland to see their museums. That was also when I became friends with some of the organizers at the Basel Fair, who repeatedly invited me year after year. It was there I saw most of the famous galleries of the world and I understood the impact that art has over the economy.
As an artist, how do you perceive the local art market? How about the international art market?
There are pieces of art sold and also auctioned, we have a series of galleries, but I'm not sure how much they sell for or if they even sell, and those which have buyers, often purchase accessible pieces. I can't say we have a proper local art market, especially compared to what is happening on the international level, in Europe and in the United States, where I regularly go. Our national artists are very low rated here in Romania compared to international levels, where contemporary Romanians are sold for thousands and thousands of dollars. This happens especially because the international buyer has been educated to invest in art, a tradition which has been settled in other countries for ages. Another major discrepancy between Romania and other markets is that there are wealthy people interested in giving their pieces of art to the museums, to be seen by the general public. Most of the museums have private collections, meaning that people are willing to share their little or big fortune, the art they acquired, with the rest of the world. Moreover, I often see in these museums the interaction between the owners of the collection and the public, because sometimes they can be spotted in the galleries, talking about the acquisitions, giving inside information or even telling stories about the collection. This is quite typical behavior on the international market, something that is clearly missing in Romania. Sometimes, during my exhibition, people ask me irrelevant questions, demonstrating that they don't really understand my art, and I often explain what I did in simple words just because this type of artistic education was neglected.
What should be done to educate the public?
Right now, the best thing to do for art education is advertising. TV should also play an important role; nowadays we don't have any cultural TV programs to educate the public. They should be the first ones to understand the fact that art could and will have an impact on economy sooner or later and it has already been demonstrated. Then, keeping this in mind, you raise awareness for the local artists. Another important factor is the investment made in children: they should be taken to galleries, museums, concerts, to experiment arts in all of its forms and from there, some will embrace the artistic way or become art consumers. Last but not least, private companies should pay more attention to art and should bring art close to their employees. In other countries, hallways are often galleries where artists present their work. What we should bear in mind is the fact that people are very open towards culture, but it depends how you inform them and how you explain the facts to them.
Is it difficult to have an exhibition in Romania?
At first, it wasn't very simple because of the political regime. Now, the situation has changed and, for me it isn't a problem anymore due my notoriety as an artist. The real problem is that you don't have any financial support; you need to do all the paperwork and the logistics for the exhibitions on your own.
Which types of spaces do you like more? The conventional or the unconventional ones?
When it comes to this, it's more about how I feel about the space itself and if my collection will properly fit there, as I imagine it. Then, at the same time, it should be a space that exhibits artists on the same professional level, so that there are no discrepancies.
How do you get to be exhibited by an international gallery?
It's more of a diplomacy act: you meet people at all kinds of artistic gatherings, you network, and then you convince them to offer you a rendezvous, where you discuss all aspects, from your portfolio to prices and representation. However, these kinds of places are full of artists who want the same thing as you do, so what happens in reality is actually a hunt for attention.
So you are quite active when it comes to networking?
Not really. After years of experience and different stages of my work, I realized that I prefer to spend more time creating art than negotiating for it. My work requires a lot of time, time which you need to take full advantage of in order to create. Of course, it's a matter of options. I decided to live in Romania and figured out on my own then to go to New York, where things are tremendously different and all you have to do is to create because your agent takes care of the rest. This does not happen in Romania, where the artist needs to do the entire work: from the idea, to the creation to management.
Where and when is your next exhibition?
Currently I'm working for an exhibition in Vienna, another one in Brussels and another in Chisinau. These are my concrete plans and, of course, some other projects which are still in discussion. Also, I entered a new stage of my artistic work and I'm 100% into the creation process.