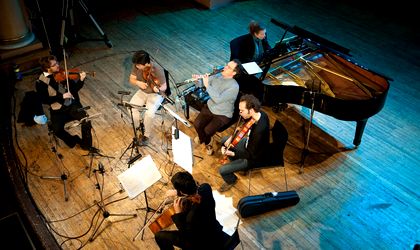 Music: Sonoro Festival(in picture)
November 1-19
Bucharest, Cluj and Iasi will host the eighth SoNoRo chamber music festival. The opening concert will be held at CotroceniPalace and will be followed by another eight shows in Bucharest.
Pianists Diana Ketler and Konstantin Lifschitz, violinists Alexander Sitkovetsky, Erik Schumann, Andrej Bielow, violist Christian Naș, trumpeter Olivier Darbellay, and cellists Adrian Brendel and Monika Leskovar will entertain the public with their works, joined by some debutants, such as violinists Ilya Gringolts and Alissa Margulis, violist Maxim Rysanov, cellists Sonia Wieder Atherton and Marcin Sieniawski, the Paris Niguna Assembly and Oslo Engegard Quartet.
The Bucharest concerts will be held in several locations: CotroceniPalace, BragadiruPalace, the Palace of the National Military Circle, the Romanian Athenaeum, ArCuB, the National Museum of Art of Romania, St. Iosif's Cathedral and the National Bank of Romania.
Film: Bucharest Jewish Film Festival
October 20-24
Horia Bernea Cinema Studio, Cinema Elvira Popescu
The Bucharest Jewish Film Festival seeks to explore and promote the minority's cultural heritage in Romania, as well as intercultural and interethnic dialogue, making Romanian audiences acquainted with Jewish traditions and art and the rich Jewish heritage of this country.
The event includes films dealing with an array of topics related to Jewry, as well as exhibitions and concerts intended to give viewers a dual vision of the Jewish community: how its members see themselves and the image of Jews reflected in the eyes of other cultures.
The festival will open with The Garden of Eden (75 min, d. Ran Tal), winner of the best director award at the Jerusalem International Film Festival (2012) and the grand prix award at the Mediterranean Film Festival in Bosnia (2013). In the Shadow (2012, d. David Ondrícek), The World is Funny (2012, d. Shemi Zarhin) and By Summer's End (2011, d. Noa Haroni) will also be screened.
Expo: Futurotextiles 
October 15-November 17
National Museum of History
The Futurotextiles project emerged from the technical and cultural boom in Lille, in northern France, offering an overview of the many uses of contemporary textiles, from artistic creation to applied sciences. The unique exhibition features a sweater that can check your health, strawberry root lace and a dress made of cellulose that grows by itself, produced by the bacteria that cause wine fermentation.
The exhibition has three parts: a teaching element, which explains the origins and the diversity of textiles; a scientific component, which focuses on future technology; and an artistic part, as new fibers and their special properties inspire creators and designers.
Oana Vasiliu