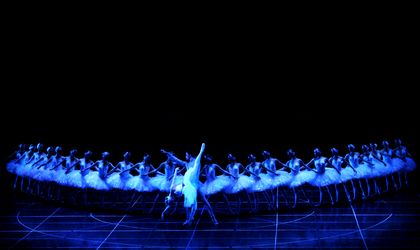 Peter Ilyich Tchaikovsky's classic ballet Swan Lake is brought to life on the Bucharest National Opera stage with the graceful choreography of Gheorghe Iancu, after a break of five years.
A principal dancer of the Bucharest National Opera, Iancu left Romania in 1986, and gained international recognition as a classical ballet dancer in Italy, where he met the famous ballerina Carla Fracci. His international career includes performances at Teatro alla Scala di Milano, Covent Garden in London, Bolshoi Theatre in Moskow, Berlin Opera, Arena di Verona, Rio de Janeiro Opera, Gran Teatro La Fenice di Venezia, Tokio and Osaka Opera Houses.
In 2008 Gheorghe Iancu came back to Romania as the director of the Ballet Company of the Bucharest National Opera. He worked on the modern Romanian premiere of Swan Lake, using the interpretation of Romanian choreographer Oleg Danovski, who had brought the performance to the Bucharest National Opera stage in 1957. Just before the end of the 2012-2013 season, Iancu presents Swan Lake again, this time his own version, under the wand of Iurie Florea.
"When I was asked to stage the show with my own choreography, I thought a lot about how to differentiate my performance from Danovski's version, which was fabulous. For me, it was a very difficult test. The key of the performance was found in the dream. I chose to do a psychological introspective of the main character, a young man who has not defined his personality completely," said Iancu.
Although it is presented in many different versions, most ballet companies base their staging both choreographically and musically on the 1895 revival of Marius Petipa and Lev Ivanov. For this revival, Tchaikovsky's score was revised by the St. Petersburg Imperial Theatre's chief conductor and composer Riccardo Drigo.
Many critics have disputed the original source of the Swan Lake story, and the Russian ballet luminary Fyodor Lopukhov has called Swan Lake a "national ballet" because of its swans, whose origins can be found in Russian lyrically romantic sources, while many of the movements of the corps de ballet originated from Slavonic ring-dances.
Location: Bucharest National Opera on June 21, 23, 26, 29, at 19.00
oana.vasiliu@business-review.ro